Cover Photo Credit: Atila Vadoc
May 2021: Excited by a new Austrian band I just discovered, I reach out for an interview. Two singles, a debut album on the way. Lukas, who answers my questions, tells me that this is in fact their first interview. We engage in a lovely chat together, having our fingers crossed to watch Takeshi's Cashew live in Turkey someday.
July 2023: Takeshi's Cashew is slated to play four nights in a row at the 30th Istanbul Jazz Festival. Their sophomore album is still fresh. I am there on the opening night of the festival at the Austrian Consulate. The band plays an outstanding show that leaves the audience amazed. Later I meet in the band, this time in person. We chat and agree upon a second interview in the following days.
We initially plan to record it in person, but both parties are too busy to arrange a date. So we switch to online resources and conduct the very interview you will read below.
How are you doing? Did you enjoy your first stay in Istanbul? Any memories you'd like to share with us?
Lukas: Hey Deniz, thanks so much for interviewing us again. We are having the best time in Istanbul, it's unbelievable for us to be able to travel here and play our music for a Turkish audience. Eternally grateful!
We really loved all the gigs so far, especially the one at Beylikdüzü Yaşam Vadisi yesterday. The audience listened so carefully and gave us really great feedback even though it was a seated show and usually those are never as good! The show at Parkorman was also amazing, we never played on a stage this huge. And also on the first night for the opening ceremony in the Austrian Embassy, that was pretty special as well… Thanks to Silvia for inviting us. Looking forward to the last show tonight.
Also, we're so lucky to have Dilara as our artist care person, who met us this morning in her off-time to show us around town, took us on a boat ride, and told us so many things about this city! We're having a blast, that's for sure!
Our first interview was two years ago when you only had your first two singles released yet. What did Takeshi's Cashew do since then? It was a wild journey, I presume.
For us basically everything happened right after that 🙂
We found our label and our lovely booker Janos, who started to send us on tour all over the place right away. We're now almost at our 100th show. Working with him really was a game changer, we had the chance to play so many beautiful shows – some of the highlights were Duna Jam on Sardinia, Fusion Festival, touring the UK, Netherlands, Belgium, Croatia, Serbia, Macedonia and so many more places we've never seen before… and now Istanbul!
Thanks for having us!
Your second album Enter J's Chamber has been out for a few months now. To put it in a nutshell, what is this album to you, and how did it come to be?
This album feels like the musical development we all made after releasing the first album. For the first time in our lives, we went on tour, experiencing how it feels to be on the road for a while and meeting the people we admired for a long time. We learned so many things working on the first album and playing the shows live in a professional setting.
A very special moment for us was meeting the guys from YIN YIN. We played some support shows with them in Berlin and Leipzig and just hung out after the shows, talking for ages and absorbing their knowledge about this crazy world that we just entered. They still feel like our big brothers in this game…
Luckily we asked sound magician Jasper Geluk, who also works with Altın Gün, Mauskovic Dance Band, and L'éclair, to record and mix Enter J's Chamber. We recorded it all on tape, no computer was involved in the whole process. And we are incredibly happy with the result.
So for us, the new album is most likely a musical reflection of this whole process, I guess.
Can you name two songs from the album that were the easiest and hardest to make?
One that wasn't hard to make, but hard to be able to publish was our rendition of Hany Mehanna's track "Badaouiah". He is a virtuoso organist from Egypt who released insane music in the 1970s, playing mostly a Farfisa organ and a drum machine. I once made a remix of that 4 years ago and we decided to play this track with the band because everybody really liked it. But then we had to get in touch with Hany and it took ages until we finally had permission to put it on the album. Thanks to Hauke from our label Laut & Luise for being so persistent and helping us to release this one! <3
What instruments and tools did you experiment on this time?
Being on tour and having endless time to listen to music we discovered many new things, one of those being the Linn Drum, a very famous drum machine from 1982. You can hear it on "Manado Harbour" and "El Topo."
Also, the process of recording the whole album in an analog way on tape has its own challenges and gives you a certain way of working.
Flo also found an old Midi-Saxophone somewhere at his father's place. It's a super funny-looking thing with this insane pitch bend feature. You can hear it in "Manado Harbour."
There are also some flutes that we never used before like the Shakuhachi or the Bansuri.
What is that 3-meter-long metallic wind instrument we saw at your concert that "blew" (pun intended) everyone's minds?
It's called Fujara, it's a Slovakian shepherd's flute. Flo's father built it himself. People ask that after every show. (laughs)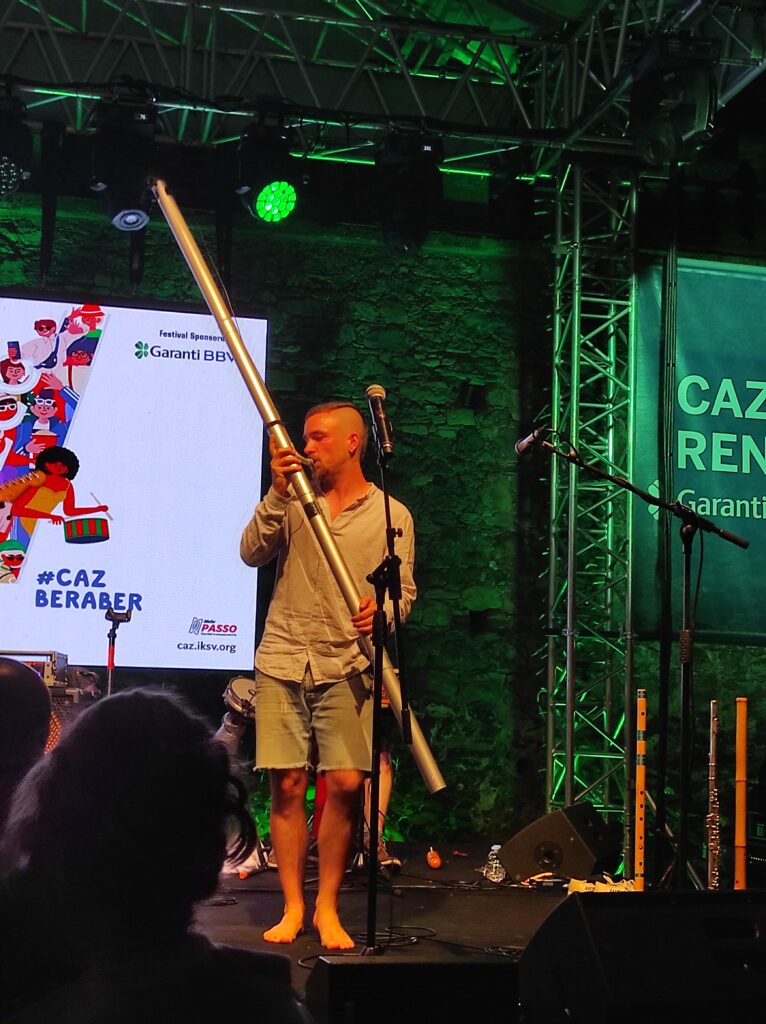 Enter J's Chamber is once again filled with rich sounds and influences. Do you remember some music that was on your listening rotation while making it?
Niklas Wandt – Balearische Bibliothek
Lucio Battisti – Anima Latina
Kate Bush – Hounds of Love
Igorrr – "Himalaya Massive Ritual"
Kosmischer Läufer – The Secret Cosmic Music of the East German Olympic Program 1972-83 Volume Three
Fazer – Nadi
Surprise Chef – All News Is Good News
Yusuf Lateef – "Like It Is"
Warduna, Aurora – "Helvegen"
God's Waiting Room
Sufjan Stevens – Carrie & Lowell
The closer track for Humans in a Pool was a nod to the Werner Herzog film. Is El Topo a nod to the Alejandro Jodorowsky film?
Yes, it is. I started working on this track and initially included some voice samples from the movie. But one after another, they dropped out of the track and we asked Niklas Wandt if he would like to do a voice-over. We were listening to his music 24/7 on the bus and it was such a great moment when he answered and said that he would do it! The lyrics are about a wandering person somewhere in the desert, who gets robbed by someone. We are so happy about the result.
Can you define your two albums by choosing a single word for each?
Earth & Space.
When you check out your streaming platform's search history, what are the last three songs that come up?
Ryuichi Sakamoto – "Plastic Bamboo"
Coco Maria – Bongo Joe compilation
Donna Lewis – "I Love You Always Forever"
What are your near future plans, and what is the best thing about being on the road and just rolling with it?
This summer will be a full-power touring summer. We have something like 40 shows, many of which are festivals. So it will be a lot of driving, playing, listening to music, not getting enough sleep. We're really looking forward to the people we will meet on the way and which musical friendships will be made. The best thing about being on the road is of course growing together as a group, until it hurts so much when everybody's going home eventually. Intensifying those friendships by going on adventures together.
You can check out Takeshi's Cashew's Bandcamp profile here.