"The thing is that we're all coming from totally different musical directions. And on top of that each of us cares a lot about getting the most out of any idea we come up with."
Takeshi's Cashew is a fresh and exciting band based in Vienna. Labeled as cosmofunk, their eclectic style actually covers a broad range of genres including krautrock and Anatolian rock. They have two singles ("Sterndüne (Kosmodr∞m)" and "Akihi") out already from their debut record Humans in a Pool, which is due June 4. All that being said, we don't know that much of the band's backstory. Yet. In order to fill in the gaps, we contacted Lukas Zettl via email, who in return sent us the band's answers.
You can check out the Turkish version of the interview here.
Kicking off with the obvious question: Who is Takeshi's Cashew and how did you guys get together?
First of all, thanks for inviting us! This is our very first interview, so we're really happy that you reached out! We're a group of 6 music enthusiasts who met over the course of a few weeks/months on various jams in Vienna. At our first proper rehearsal, we immediately had a very intense and psychedelic flow going, which none of us expected really. We all had different projects going on at that time, but it was clear after a very short time, that this would be something special. We found this kind of music to be very free, so we could keep the rule-book closed and challenge ourselves in many ways. So after something like 3 rehearsals we had our first gig which was insane. I remember I played electric guitar, bass, synthesizer, and a drum pad sometimes all in one song and we somehow managed to play an extraordinary show for our friends. From there we started working on our first album.
You already have two singles from your upcoming debut album Humans in a Pool out, and they take inspiration from possibly 20 different music subgenres. What are your personal stories of developing eclectic tastes and how did you go about creating your sound in the studio?
The thing is that we're all coming from totally different musical directions. And on top of that each of us cares a lot about getting the most out of any idea we come up with. So there is inspiration coming from projects such as Igorrr as well as pop music, from very digital computer-music as well as all analogue 60's surf-rock. We somehow found a way to bring all of that together and each time it is a crazy process with lots of fun!
"Akihi" overtly has a 70's-Turkish-folk-music flavor to it, so I feel compelled to ask: Who are some of the Turkish artists that inspired you?
I think the first song that had me diving into this whole world of amazing music was Yaz Gazeteci Yaz by Selda. I remember being blown away by the mixture of sounds and influences and also by realizing that many of the ideas that I found original in modern music were already done so many years before. So I started digging and found so many great musicians like Özdemir Erdoğan, Barış Manço, Neşe Karaböcek and countless more. In terms of modern music, all of us really love Derya Yıldırım's music and everything that is coming from her projects as well as Altın Gün of course. Always ready to learn more about great music!
Nowadays, ethnic sounds from across the globe become more and more popular among alternative music circles. What do you think about this renaissance of bands with similar tastes?
In my opinion there's different sides to that. On the one hand we live in a great time to make music, because never before was it possible to get such a huge amount of inspiration from every corner of the world. Everyone's working on music with individual approaches and all of that is made instantly available on the internet. I think it's a time where a scene that isn't even bound to a specific location can come up just like that. Also it is truly amazing that bands that were undeservedly lesser known in the 60's & 70's get global recognition all of the sudden.
A drawback to that is that of course writing, composing, and producing music is embedded in global structures and attached to privilege. We're in the process of understanding our position in this structure, but we can for example directly feel our privilege as a band with a steady financial situation. It is an enormous problem that making art is directly connected to the amount of money you have.
Describe Humans in a Pool in your own words. What is waiting for us there?
I think this album represents the first phase of experimenting with our diverse musical approaches and unconventional instrumentation. Every member brings something different to the table and is given the opportunity to be creative in a new and unfamiliar framework. It is gonna be an album full of eclecticism and fun, but also with darker passages and gloomy feels. On May 21st you can hear our new single Yellowyellow, which is more of a dancy track, that I really love! Hope you'll like it too.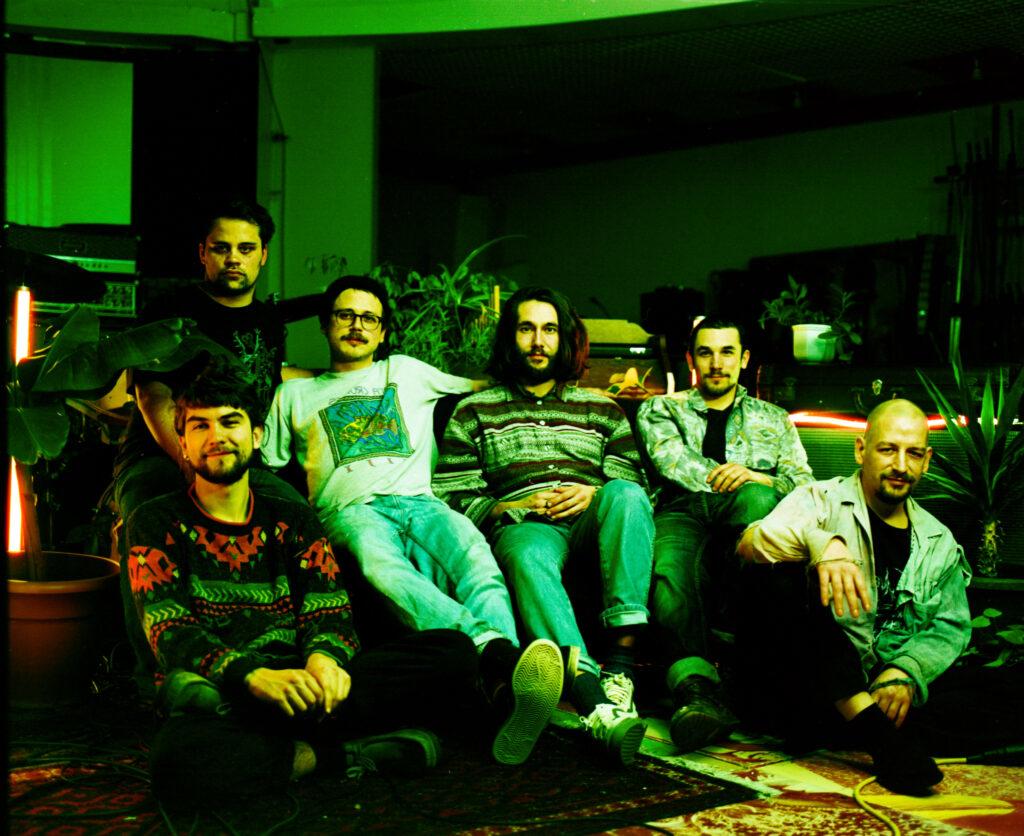 I feel that these two tracks would kill it in front of a live audience, and they are also very visual in a way. Do you have special plans for the stage shows?
Thanks so much! We've been experimenting with liquid light shows in past gigs and want to continue doing so. And we'll probably try a few different things along the way, but I guess nothing that requires too much focus, so the audience's imagination is free to roam.
Where do you want to be as a band, five years from now?
Our dream would be to be able to work in music, get to know many inspiring people and record in interesting places. Until now the whole process was so rewarding and interesting, I can't even imagine what will be next. Journey into the unprecedented!
Hope we can personally meet in a concert here someday. Do you have additional words for our readers?
We'd love to come to Turkey, I hope we can make this come true someday! Thanks for the interesting questions and for reading our answers, it means the world to us! Stay safe and let's party as soon as it's possible again <3
You can check out Takeshi's Cashew's Bandcamp page here.