British band black midi has achieved cult status within the music industry in a relatively short time, gaining loving fans around the globe. You could label their 2019 debut record Schlagenheim as post-punk, garage rock, or experimental noise. Yet, any definition would remain useless. They had created a sound entirely of their own right from the start.
Now they're back with their second studio album Cavalcade, embodying a sonic chaos carnival. Although they are now a trio -with guitarist Matt Kwasniewski-Kelvin on hiatus for his mental health issues-, the band sounds richer and sparser than ever with guest musicians and countless new instruments in the mix. The album is surely some form of avant-prog, and it may well be a contender for the best album of 2021.
We contacted the band's drummer Morgan Simpson and engaged in a sincere and joyful chat. The topics discussed include the meme culture, the definition of progressive music, the active music scene in London, black midi's journey, and more.
You can read the Turkish version of the interview here.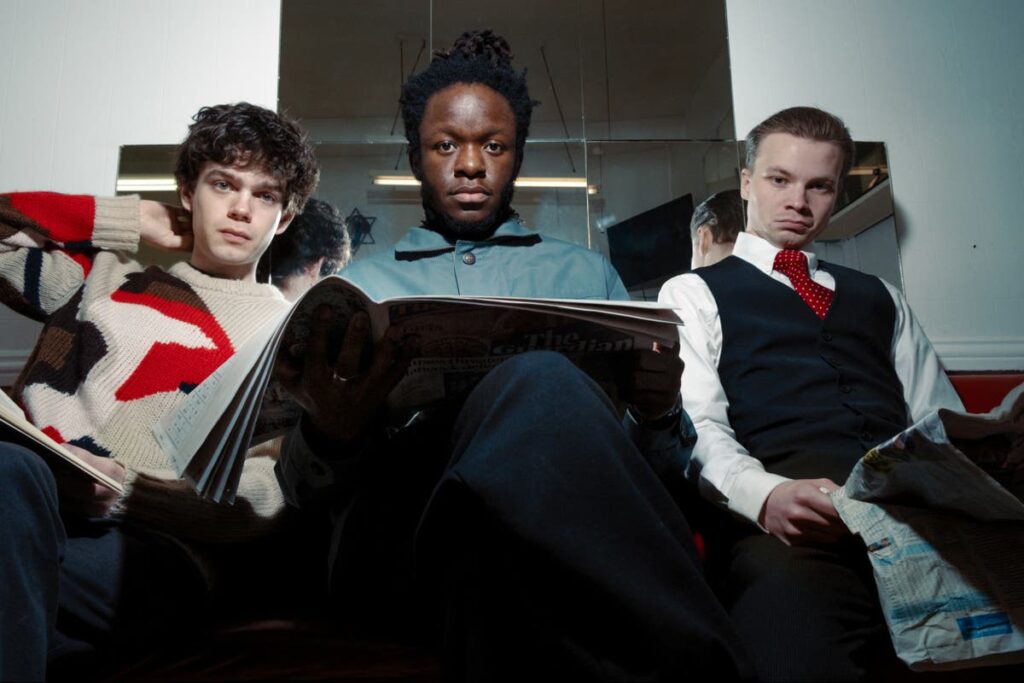 How are you, Morgan?
I'm doing great, man. We've been writing new material these days. How are you?
In Turkish, we have this phrase of gesture that literally means: "I'm better now that I've seen you" as a common response to "How are you". So that's how I am right now.
Right, right. Cool.
You have your new record out, Cavalcade. It's only your second album, but it feels like a brand new Black Midi already. The thing is that a lot has changed in our lives since Schlagenheim. I remember you were supposed to do a concert here in Istanbul back in June 2020 or something, which I was really hyped about, and then boom, the pandemic. What was your initial train of thought as a band after your tour was canceled?
I think we all really needed a rest after the couple of years we've had. Obviously, we were at first incredibly battered. We were planning to go to see America as well. We were supposed to play in Coachella in April, it was only a month away. Of course, there were some initial feelings of disappointment, but I really feel it was a blessing in disguise. I'm very well aware that we are privileged to even say that. There were many people who were affected really, really badly by the whole pandemic, you know, I don't think many people can say that. They got through the pandemic with no sort of state to record an album. That's something we're very grateful for. That was probably our first step forward. Just to rejuvenate, get some energy… I think it really made us reconsider what we actually wanted to do. We all had a lot of real-life questions presented in front of us. You can't ignore them. It was a blessing in that way. It reinstated what we were about and what we wanted to achieve.
After Schlagenheim, maybe we weren't enjoying ourselves as much as we should have. On paper, touring is a great thing, but it's exhausting, you know. It takes a lot out of you. We weren't into the tunes in Schlagenheim as we were in 2019, we had played them many times. So I think our first thought was "Let's regroup and go in a new direction."
So it was a time of inner reflections and to just stop and think.
Exactly.
Here at Kıyı Müzik, we love Cavalcade, the same as seemingly every black midi fan from around the world. How have you been handling the reception so far?
It's been amazing, man. It's beyond humbling hearing even one person appreciate your work. When you have big ideas and statements about what you want to do, it's a risk, isn't it? It feels like the risk has been taken, it has really paid off. It's just a relief when you do something and it pays off. Even if we put the record out and no one liked it, we would continue to do what we do, but it's a great thing people are into it. It's been really cool. Leading up to the release, it was a bit hectic for us, doing a lot of interviews, a lot of prep… But now it really feels like the dust has settled a bit. We even started writing again. We're working on album number three.
For Cavalcade, you switched to a more eclectic and focused songwriting approach. You also brought new instruments to the table. How did those affect your creative process?
Naturally, when there are more sounds and sonics we can choose from, you're gonna be more ambitious with the songwriting as well. Going back to Schlagenheim, that whole album has a very particular tone and shape, which is cool, but on Cavalcade, we were able to have a lot more color in music. We felt that it would be a shame if we didn't explore it. And we were all on the same page in that 10 years down the line, we wouldn't want to do the same thing. It just allowed us to be more wild and ambitious. Quite a few of the songs from the record were written by individuals, and we all play a lot of instruments. Geordie (Greep), for instance, plays the Hammond organ, accordion, some keys… Because of the nature of the demos, we already had far more versions of songs than there ever has been. It just allowed us the time to really reconsider what we wanted to sound like.
Cameron Picton's space here as a vocalist is vaster when compared to Schlagenheim. Would you yourself consider doing vocals at some point? You would be one step closer to become the next Beatles… (both laugh)
That is a big, wild statement, man.
Because they also all sing on their records…
Yeah, yeah. But hey… I don't know if you have the Flexi discs that we put out with our records, but I might be singing on some songs there.
So you really are kind of becoming the next Beatles. (laughs)
Yeah. Slowly but surely, we are.
In your newest KEXP video, your friend Lewis Evans from Black Country, New Road joins you as a sax player. I actually interviewed Charlie and Tyler from BC, NR back in February…
Oh, cool! They're legends man, they're great.
They're really cool people. And you're all part of this heated alternative music scene that connects under the umbrella term "post-punk" based in London. As an insider who took part in the scene, how would you describe it? Do you think it will continue to grow?
First of all, I wouldn't personally label myself within the post-punk scene. I think it's wider than that to fit a genre label. Obviously, I know it's not you who say this, I know it's a commonly said thing. But I think to put a label like that on what's happening would be a disservice. This connects all of London. London's music scene has always been a thing, but especially at the moment.
My girlfriend Rosie Alena supported our great friend Olivia Dean at Jazz Cafe last night (June 10). They performed there, two sold-out nights in a row. Jazz Cafe is one of the most historic venues in London, so it was a big event. They are part of this too.
Just look around: You have Sons of Kemet, Wu-Lu, Kokoroko, Black Country, New Road, Squid… All of it. But it's not a genre. It's just music. I think there's a lot happening at the moment. I find it weird sometimes when people say London is a big city because it never feels big. Everyone knows everyone, it's so crazy. It feels like we're in a town. It's absolutely a pleasure and an honor to be part of something like this. There're not many things like this happening around the world, let alone in the UK. London's a really cool place, and we're lucky to be there.
I was online at the Cavalcade Listening Party Extravaganza you held on Youtube, and I have to say, the intro was one of the funniest things I've seen in a while. As a meme culture fan, it always makes me happy to see that the bands I love have a good sense of humor. Do you personally follow and share the music memes on the internet, and how do you think they contribute to the music community?
Wow. I'm actually not that deep into the music meme lore. I see them, I think they're hilarious, but I've not been much in social media recently. It's good to take breaks from that shit. Memes are great, though. When you need a giggle or a laugh, just go on a meme page. It's great to begin to see our faces on memes that people find funny.
Your constantly release crazy music videos. How much involved are you in the creation of your videos? Do you choose and contact the artists you work with, do you put forward a concept together with them?
Kind of differs from song to song. Generally, we just leave it to the directors to do what they do. We might have a couple of ideas about what type of thing we want, but generally speaking, we end up working with people because we like what they do. We just let them do what they're great at. We're musicians, and they're directors, they can have the video side. I think the best way of working on a project is to let the professionals work on it. Like that saying, "Too many cooks spoil the broth." That's how we prefer to work.
Your videos also occasionally feel very cinematic. "John L", for instance, looks like Alejandro Jodorowsky doing his version of the Cats musical… (both laugh) Would you consider yourself cinephiles?
I'm probably the band member who watches films the least. When I do end up watching films, which is mostly when I'm hanging out with my friends or my girlfriend, I enjoy them, but watching a film is not my first thought in my spare time. I'd much rather do something else. But I'm really trying to get into watching films a lot more. Geordie is your man if you want to talk about films. Cameron as well.
In my review of the album, I called your music "progressive in the truest sense," and I will stand by it because I think your journey has really been "ascending forth" since its beginning. Would that be your ultimate goal as a band, always exploring new territories?
Absolutely. I like that definition. Otherwise, what's the point? If you don't try new things, what is the point? That's what it's all about. Our favorite artist, Miles Davis, is a prime example. Look at his works from when he started as a musician up to the end of his career. That's the dream! That is progressive, that is exploring. The Beatles, all great bands… They're always trying new things. The Beatles No.2 coming up!
The umbrella term progressive rock often contains music that is normative to the clichés of 70's prog-rock, which I believe creates a dilemma in itself. What are some of your go-to progressive music albums that challenge these notions?
Great question. I can say Miles Davis' In A Silent Way. Do you know that record?
Yeah. All of his albums are basically masterpieces in a different genre.
Yeah. In A Silent Way is mindbogglingly good. Bitches Brew is a big one, of course. On The Corner… On Get Up With It, there's a track called "Rated X", which I think is the first hip hop track ever. When you listen to that, you can hear MF Doom, Mos Def… You can hear all of these rappers spitting over it. So Miles Davis, for sure.
D'Angelo's Voodoo is a great one, and Black Messiah, which came out most recently, and is a masterpiece. Voodoo is its own great thing, but I really think Black Messiah doesn't get the credit it deserves. It merges all these genres and the 60s-70s shit. Whenever I hear that record, it sounds like it came out many decades ago in the best way possible.
Another record that comes to mind is A Seat at the Table by Solange. I think it changed the whole complexion of neo-soul and R&B. Some of the production on that was… I wouldn't say experimental, but it had not been done at that time. I believe that really changed the game for a lot of people who followed.
Let's imagine we're 100 years into the future. There's a Black Midi memorial stone inside a "Music Legends Theme Park". If you could personally choose one of your lyrics to be written on your memorial, which one do you think it would be?
Oh my god. (laughs) That is a difficult question. (thinks) I guess I won't even choose a lyric of our own. Do you know the lyric I would pick? I would pick something from the song "Electric Relaxation" by A Tribe Called Quest: "I like 'em brown, yellow, Puerto Rican or Haitian / Name is Phife Dawg from the Zulu Nation." That is one of the best bars of all time.
On social media, a lot of your fans quote your lyric "What a magnificent purpose" from "bmbmbm", it has become integral to the meme culture. I thought maybe you would choose that.
(laughs) I was going to, but I thought, "Yeah, that has been done."
That's all of my questions. Thanks a lot for joining in. I hope we can personally meet at a concert sometime.
Definitely. It's been a pleasure. Hopefully, we can come to Turkey and play some shows for you soon. All the best!
You can check out black midi's official website here and Bandcamp profile here.