We have been following the works of Scottish quartet Modern Studies with joy for a while now. They offer a synthesis of music genres including folk, chamber pop and krautrock, providing a rich journey within music production by their experimental approach. Their third and most recent studio album, The Weight of The Sun, is no exception in their consistent quality and uniqueness.
In honor of their latest album, we contacted the band's vocalist and multi-instrumentalist Emily Scott. We talked about the working environment and principles of Modern Studies, the current situation of the music industry and more. Hope you will enjoy reading it!
You can find the Turkish version of this interview here.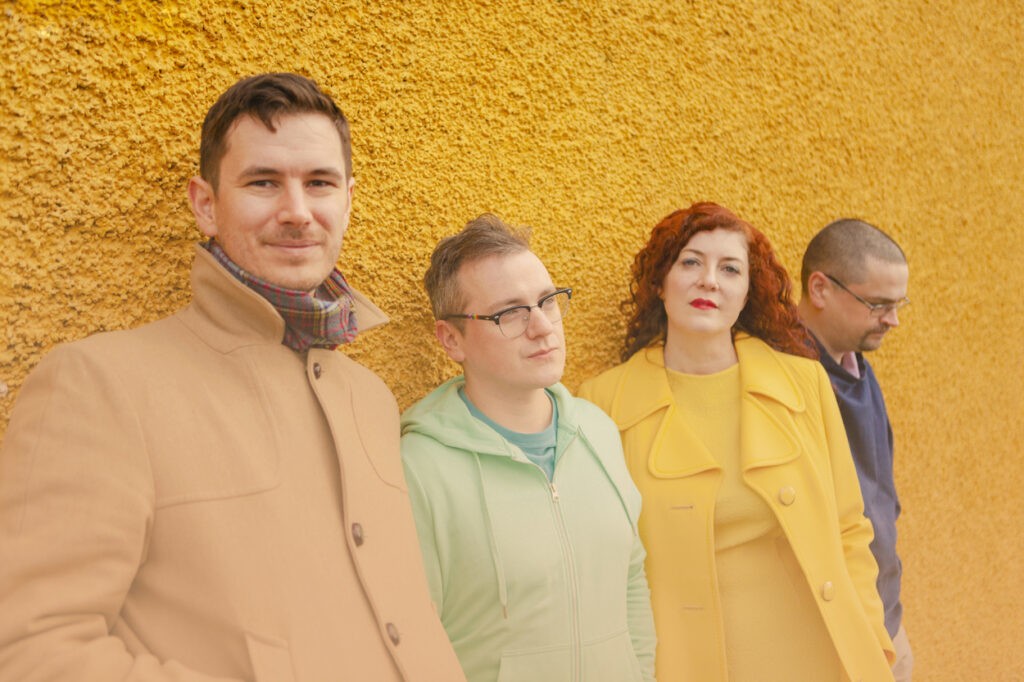 How are you doing in these difficult times?
We're doing ok! While personally we're dealing with all sorts of change, as a band we are able to be much as we ever were in terms of working, writing, recording and sharing ideas. We'd be on tour right now, so we're greatly missing that chance to play shows and see our audiences, but realise things are much harder for some, and look forward to hopefully getting back into the van together in 2021.
Your latest record, The Weight of the Sun, is a solid album as always, if not your best yet. Congratulations. Can you tell me about the recording process? What was your working environment like? How experimental did you get with your instruments this time?
Thanks! We do a lot of writing remotely, living geographically far apart. We then spend some intense periods of rehearsing and recording at bassist Pete's studio, Pumpkinfield, in rural Perthshire. It is his home, and we all feel at home there, the perfect combination of high-end gear and a comfortable place to play and be together. On Welcome Strangers Pete and I arranged for a chamber orchestra of strings and brass, but for The Weight of the Sun we were keen to explore more our capabilities as a four-piece (a principal we stuck to up until the last minute, when we got in Rachel Simpson on Flugelhorn to add a little magic). This did mean we got a little more explorative instrumentally with Joe working on more processed drums, layered violin and viola (played upside down because Pete and I are cellist and bassist), theramin, Rob with his unreal guitar tunings and bits of tape, some new synths and pedals, as well as some playing about with garden tools and studio fixings.
Your music is influenced by a variety of genres like folk music, krautrock and much more. Last year, Tommy Perman recreated your second LP Welcome Strangers as an electronic record, which was a bold and unique effort. What do you think about the transcendental and genre-defying nature of your music? Do you believe the act of labelling music into categories tends to halt creativity?:
Individually we listen to completely different things, and I guess some influences become more obvious where there is an overlap in our interests, and some listeners will pull out different colours from the mix than others. However, what we do feels very natural and open, we seldom feel we're in disagreement musically, and I think that helps shape something less bound by genre and free to interpretation. We need convenient genres to organise record stores and to help seek out new music, but I think we have a long way to go. I rarely stream music unless I'm checking something out before buying, as I find I can get completely frustrated by the loop of reductive algorithms.
Would you agree if I claimed that The Weight of the Sun feels transcendental and liberating especially today in the sense that it makes the listener picture a sunny outdoor field whereas many of us are in fact mostly in our homes? Does that reflect the transformative nature of art's meaning?
I think we're seeing it differently because of our peculiarly confined existence right now. We didn't write this or record it in lockdown so it might well transport people to a different place or time, but it's nice for us to think it might've done that anyway! As a consumer I certainly look to art as a means of escapism, whether that's visual art, or literature or music.
Are you interested in impressionist paintings in any way? Your cover arts resemble such works to a degree, and at certain points listening to your music I do feel like it is all a soundscape coming out of a painting. Maybe that's just me imagining things. (laughs)
We are concerned with light and colour and texture in a similar way, and we work a lot in the mix to try to give these little details space. There are times when we are 'at play', perhaps after a session has finished and we're just hanging out in the studio lifting things and exploring sound, it does feel like painting in a way, or chemistry maybe, mixing chemicals, melting things, experimenting. We've loved every artist who has provided artwork for our covers, Mary Morrison on Swell to Great, Keith Wilson on Welcome Strangers, and this one is by Vivian McDermid. It just seemed to capture the shifting colour and light, and the positivity we hoped would come across in the record.
I was fairly certain -and you have just confirmed- that you, as a band, have diverse tastes in music. Can you recommend a few lesser known bands of any genre?
I don't know about 'lesser known', but we do have some really beloved friends who we cross paths with here and there, who are tirelessly talented and deserving of a listen if you don't know them already: eagleowl, Lomond Campbell, the Leg, Kathryn Joseph, Rick Redbeard, Andrew Wasylyk, Ben Chatwin, Ela Orleans, Jonnie Common.
Where do we go from here? Do you believe the world will be reborn in a sense after all this?
As well as general hopes for more compassion and understanding, I hope we come out of this with a renewed vigour for supporting our music venues and live concerts, now that it's been impossible to have that real connection at gigs. The situation has been dire for many who feel they might not recover, and support for live music was already on rocky ground in the UK for some time before this. We've been overwhelmed by people reaching out at the time of our record release, and I think audiences are making an effort to support and connect with artists right now, but we're wishing the best to all our music venues over the coming years as they try to recover.