Scottish indie pop legends Belle and Sebastian started off the year with their 12th studio album Late Developers, which arrives just months after their last record. Below you'll find co-vocalist Sarah Martin telling us all about it, plus the cats of Istanbul, the most underrated Belle and Sebastian album, memories, nostalgia and more.
How are you doing these days?
I'm good! We were just in the office, doing a little band catch-up. New year, new plans. We also saw each other last Sunday for Stevie (Jackson)'s birthday, and we did a little business-y check with each other today.
This interview takes place a decade after your first Istanbul concert. At that gig, we played a DJ set as Kıyı Müzik, along with a few other opening acts. Do you have any memories of that day?
It was quite an exciting trip, the first time we came. We were taken out to see the underground reservoir thing. What was its name?
The Basilica Cistern?
Yeah. That blew my mind. I thought that was incredible. We went to the Hagia Sofia as well. We were shown around a little bit, it was all really nice. I remember seeing lots of cats. There are very friendly cats around. (laughs)
We do have many lovely cats around.
I also saw Kedi, the documentary. It was just lovely. Loved it.
I was there at your most recent Istanbul gig. It was an unusually cold day for the end of summer.
Yeah. It was raining too. It was not warm weather.

There are ten years between the two mentioned concerts. A decade is a long time. How do you think you have changed, both personally and as a band in those ten years?
That's an interesting question. I think I've changed more in the last couple of years than anything. I've grown to be happier living a small life, I guess? I've grown more fond of my own company and not traveling very far. I also think I've never been more creative personally. I'm just living in the moment, writing lots of songs, and making art and textile pieces. I'm having a creative purple patch.
As a band… Ten years ago was 2013. We were probably working pretty hard, and… No, wait, actually, we were not! We were on some sort of break. That was when Stu (Murdoch) was making his film, God Help the Girl. Stu is not very well at the moment so we aren't currently touring, though we were supposed to be at the moment. For me, it's a rather parallel situation, I'm in a similar position. I'm doing others things despite thinking a lot about music as well. We are currently inactive as a band though we just released an album that was recorded a year ago.
Your twelfth studio album, Late Developers, arrived a year after your last record. It was made in the same sessions as A Bit of Previous, right? Let's talk more about its recording process.
We were just meant to put out a single album with a producer in LA. We had a schedule of six to seven weeks, it was a quite condensed period. That's a really fun way to make a record. It's probably my favorite and preferred way. You know there is an end date, and you know that you are gonna leave there with something that is finished. But the pandemic was just us running and running and running. Recording was the only thing we could do. So we just kept on going. Kept on writing more songs, kept on having other ideas that were worth developing. We were in our own studio, and as long as we kept on with those, we didn't see much point in stopping. That was until the record company called us for the record. We had a tour, but we did want to put the record out. At some point, you have to give your record company a record! Then we had a deadline before us, and we had to choose which songs would make the album. We had about thirty songs by then, and we would have kept on going, but I guess the live stuff became a prospect again. There were once again events outside of the studio that we could do. I think we were very happy working in the studio, it was good.
The lead single "I Don't Know What You See In Me", in addition to being a rare collaboration, offers a new type of sound to the band's music. What do you think has made it the lead single from this collection?
It was the record company. We sent them the songs that we had, and they chose "Unnecessary Drama", "Talk to Me, Talk To Me", and "I Don't Know What You See In Me" as their favorite… 'pop songs', I guess? The first two are from A Bit of Previous, and they were kind of similar. We knew one of them would be the lead single for one album, and the third would be the single for the other one.
The song is such a great pop thing as well. It is produced by a guy (Pete Ferguson) who makes proper great pop records. An awful lot of it features music from him. We embellished it a little bit, but the core is actually him, the bassline and stuff. It's funny because I've been listening to songs from that French musician College. I said to Pete, "I love that College-type bassline", and he went "Yes! Finally! Someone recognized that influence!" I think he is really clever.
What do you think were the easiest and hardest songs to create from this record?
It's funny, but I would say the hardest was "Do You Follow". That went on for quite some time. We started it in 2019, it was written for a film (Days of Bagnold Summer) where we did the soundtrack. It didn't exactly fit the director's musical style and ideas. But Stuart really wanted to keep going with that song, so we did, but it was a really hard one to finish.
The easiest was probably "Juliet Naked", which was recorded probably even earlier. It was done in a day.
So how much time did this record take in making from start to finish?
Well, first came "Juliet Naked." Back then we got a proposal to maybe write music for another film, but none of that was picked. That was probably in 2018. Although there were some ideas written down before any of the songs began. In terms of actual, proper recording for the main sessions though, it was more or less from late 2020 to late 2021.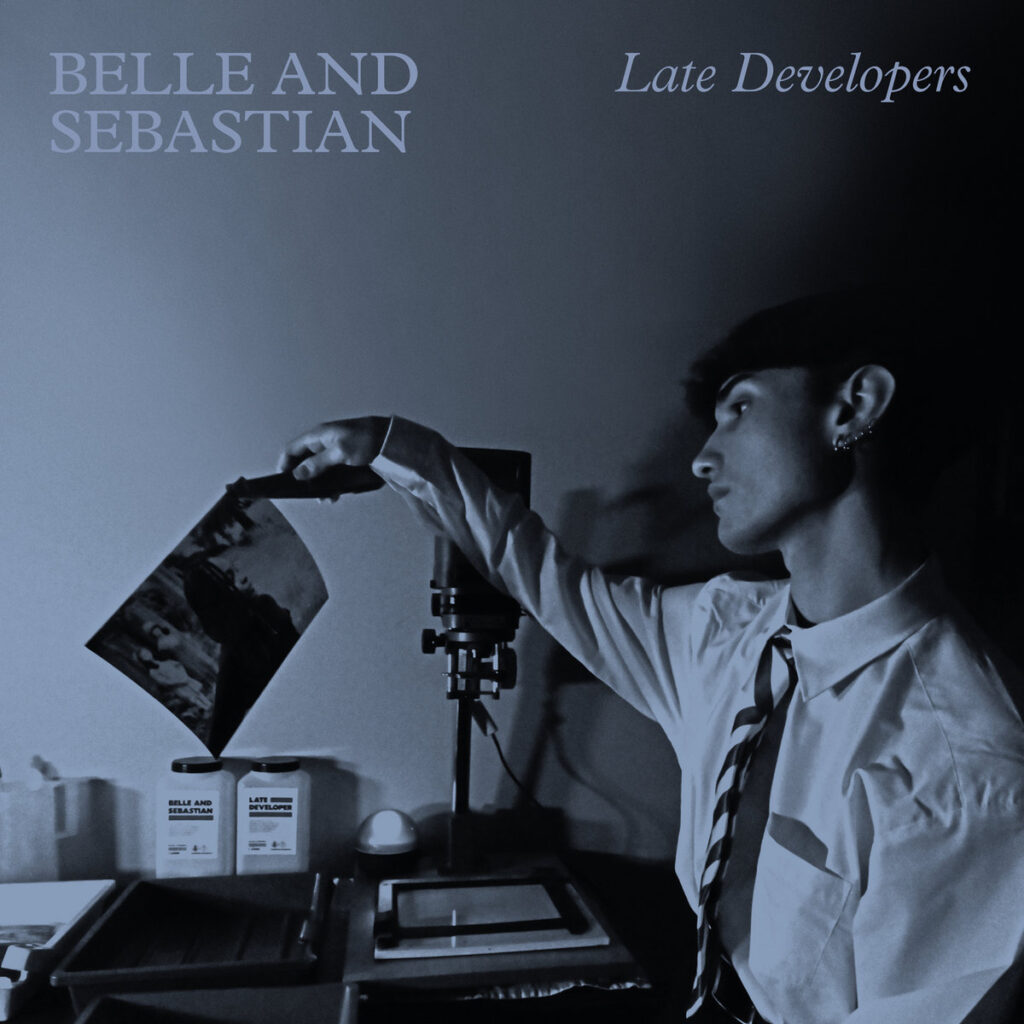 What is the story behind the cover art?
It actually might be my favorite yet among our cover arts.
Stuart thought Late Developers was quite a nice title. I think somebody described our band as late developers, which I guess we kind of are, actually. We are slow to get our shit together sometimes. I think, as individuals, none of us are particularly sophisticated or ahead of our game. The photos for A Bit of Previous had a 'Victorian ghosts' theme, there were ghostly figures in the background. Stu thought that maybe we could reinforce that idea in the second album from the same sessions: You see my own dark room kit. I got all that stuff at home. My spare room was empty at that point, so we just set up a dark room there and have this kid coming, pretending to be a photography student developing the photos from our last album. I really like it. I think it's a good concept.
And when you open up the album sleeve, it's my own garden with the photos drying on the washing line. When we were on tour, it was that image popping up in the background. It was nice seeing my garden on the stage.
On a scale from 1 to 10, how much of a nostalgic person are you?
I think I am quite nostalgic. Maybe 7? I definitely cherish memories, but I do like new ideas too. So maybe a 7 out of 10.
One Belle and Sebastian album that you feel is vastly underrated?
I don't know! (laughs) Maybe Write About Love. I think it has got some of my favorite songs.
In your memories with Belle and Sebastian, is there a specific moment when you first felt you had achieved something special?
There have been a few gigs where I really felt that. One of the early ones for me was when we first went to Brazil. We learned a couple of Brazilian songs for that. But of course, none of us speak Portuguese. I had had a couple of lessons trying to pronounce things right, but it was quite a hard thing. I was lucky because the song I was singing was slow, but as soon as we started playing it, the crowd started to sing along! Because it was slow, the whole four thousand people could easily sing it beautifully. It didn't matter whether I was singing good or bad anymore, all you could hear was the audience, and it was lovely. It was a special moment. I think we didn't have any idea of what to expect in Brazil, we thought it was quite a crazy place to be offered a show. We thought it could be a disaster, but it was great.
What have you been listening to lately?
I've been working with an artist whose dad is Ukrainian. We listen to a lot of Ukrainian music while working, which I really enjoy.
What near future plans do you have at the moment?
We have a couple of tours coming up on the calendar. We are currently talking about new music as well. We have got our studio set up already, so I guess it's just a case of people being ready and thinking about what they want to record there.
If you had a chance to carve one of your lyrics to your memorial stone 100 years from now, what would you choose?
I don't know! (laughs) I'm not sure we would actually be able to pick that in real life.
If you were offered the chance, though?
Oh, my mind is blank! (laughs)
I think it should be "I gave myself to sin / I gave myself to Providence" from "The State That I Am In." It feels appropriate.
You can check out Belle and Sebastian's Bandcamp profile here.