We had a nice chat with the psychedelic San Diego trio Earthless on their amazing latest record, Night Parade of One Hundred Demons.
First things first, congratulations for such an incredible new record and thank you for taking the time for this interview!
Thank you for the kind words on the new album. And thank you for reaching out for an interview.
You have just released an astonishing instrumental album which draws the listener into a vortex with a myriad of sensations, we really dig it! As we recently mentioned in our review of the Night Parade of One Hundred Demons, the music is so vast and the chemistry among the musicians is top notch. On a more personal level as the creators of this fine work, how happy are you with the overall sound and performance of the record?
Thank you. We're really happy with how this album turned out. It was really enjoyable to write and record. We feel that it's our best album so far.
The album contains only two (three) songs: first one having two parts comprising a hypnotic 40 minutes, and Death to the Red Sun, a 21-minute-long epic song. This reminds me of your very first album which had only two songs as well. Can you tell us about what brought the idea of going back to this rather extraordinary track listing?
'Black Heaven' was sort of difficult to make. We wanted to do something different. To create something out of our comfort zone. We did but I think pretty quickly upon finishing that album we came to the conclusion that "structured" songs are restricting and that's just not how we like to play. That thought became clear to me as we toured throughout 2018. The majority of the improvisation was gone. What we did improvise live started to become routine playing night after night. It's both more comfortable and enjoyable for us to have a looser structure to work with.
Both parts of the Night Parade of One Hundred Demons have a lot of ambient passages that portray the story of the Japanese legend known as Hyakki Yagyō. The whole record is almost like a soundtrack for this legend. By the way I also must admit the artwork just kills it, so ghastly and fitting the sound splendidly. How important was this legend in the composition and arranging the structure of the songs?
The story became important once we started to arrange the songs. We had the majority of the riffs. But when we started looking at the folk tale, that was the point when it started to become a soundtrack. The title track is our version of Hyakki Yagyo. 'Death to the Red Sun' is a companion piece, but 'Night Parade….' tells the story of panic and terror of things unknown. We felt it was sort of fitting of the world climate with the Pandemic. Self-inflicted isolation leads to survival.
Continuing on the structure of the songs, on the one hand, the tracks have riffs that expand for minutes over which tens of different solos scream. You keep these riffs long enough but to the point where it feels just right. There is an apparent cohesion between various passages and the song structures contain many intentional mood swings. On the other hand, the album sounds like it was recorded live. Can you tell us a bit more about the recording process? Were the sessions based on jamming on a certain backbone structure or did you adopt a different approach?
We recorded the majority of the album live with minimal isolation. Mario and I were together in a large room, and Isaiah was in a small booth within that room. All of the rhythm tracks were put down live with relatively loose structures. There was quite a bit of jamming within those loose structures. The majority of the guitar solos were overdubbed, as well as percussion and the synthesizers used during the ambient passages.
Unlike Black Heaven, Night Parade of One Hundred Demons is purely instrumental. I must agree that keeping it without vocals helps painting that picture of that very night with demons and ghouls. What was behind the artistic choice of not including vocals in this album?
We already had in mind that there would be minimal vocals, if any, on this record. A few of the verses were originally going to have vocals. Isaiah was playing a melody in place of the vocals since he hadn't come up with lyrics yet. And the melody fit so perfectly that we decided to use melodies to tell the story rather than words. I think it worked out well.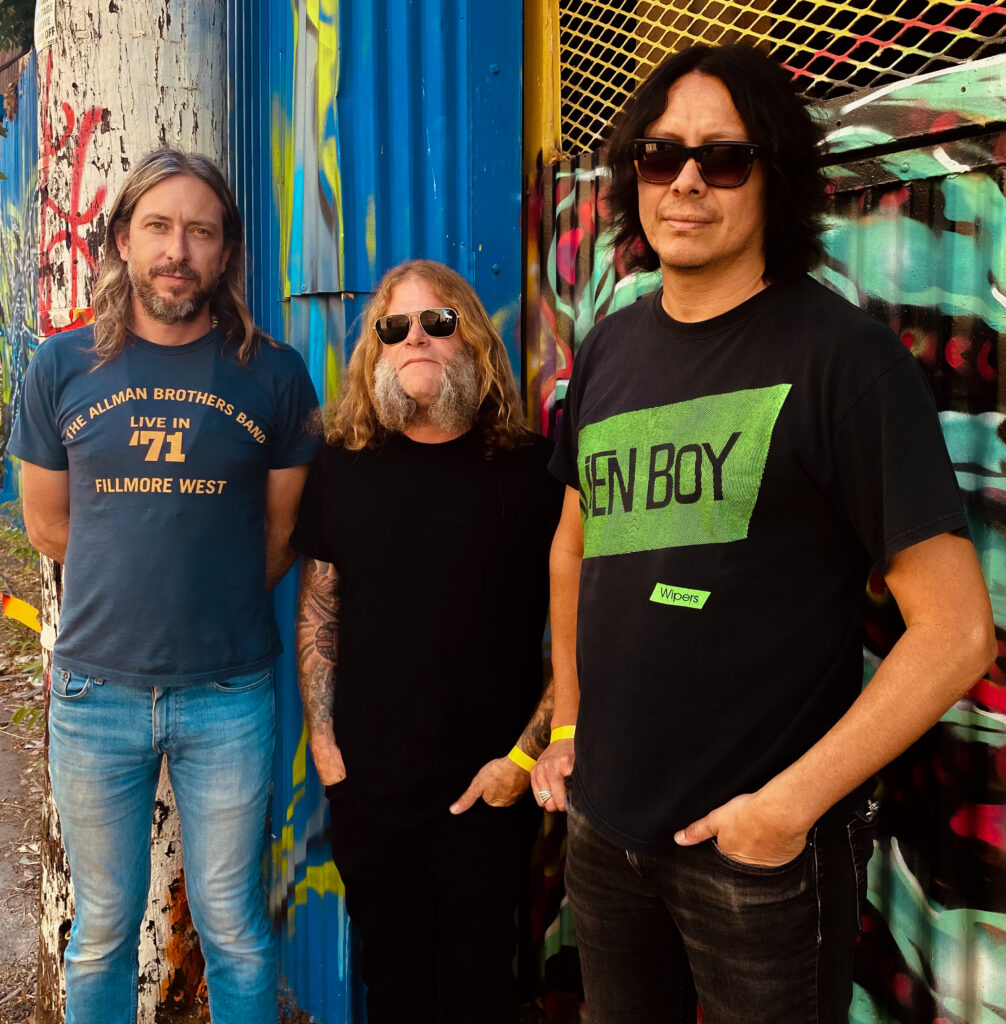 You've been working with Nuclear Blast since 2018, a label more known to be associated with metal rather than psychedelic rock. What are your thoughts about this partnership?
Nuclear Blast has been great. No issues at all. They seem happy to have us and we're happy being a part of their roster.
You have just announced the UK/Europe tour for this Spring (and hopefully I'll make it to the Lyon show!). You must be excited to play these powerful new songs before an audience, especially given that the album was written during the pandemic. Are you planning on releasing a live record from this tour? What are your thoughts on this?
Yeah, we're very much looking forward to touring after such a long hiatus. Especially getting back to the UK and Europe since it's been so long since we've been over there. And really looking forward to seeing people's reactions to the new material. I think it'll go over well.
No plans for a live record at this point but you never know. Someone might get a good recording.
Any last words for our readers?
Thank you again for having me do the interview. A big thank you to all the people who've come out to our shows, bought our records and shirts, and who have just been supportive over the past 20 years. We wouldn't be able to do this without you.
Be kind to one another. Treat people with respect and love. I'm positive it will make the world a better place.
You can check out Earthless' official website here.