If you're an avid alternative music fan, then you probably don't need an introduction to who or what King Gizzard & The Lizard Wizard is. The Australian band's discography is a crowded one with 18 studio albums -let's hope the number won't get updated by the time this interview is published- and a musical journey touching upon dozens of different genres.
The Aussie rockers have released their 18th studio album Butterfly 3000 on June 8. A surprisingly poppy and radio-friendly record for a band who played thrash metal just three records earlier. It is a sweet and quality collection of songs that deserves a listen for all fans and newcomers.
To celebrate the release of the record, we had a sincere chat with the band's guitarist Joey Walker. Everything you will read below is documentation of that meeting – Enjoy!
You can read the interview in Turkish here.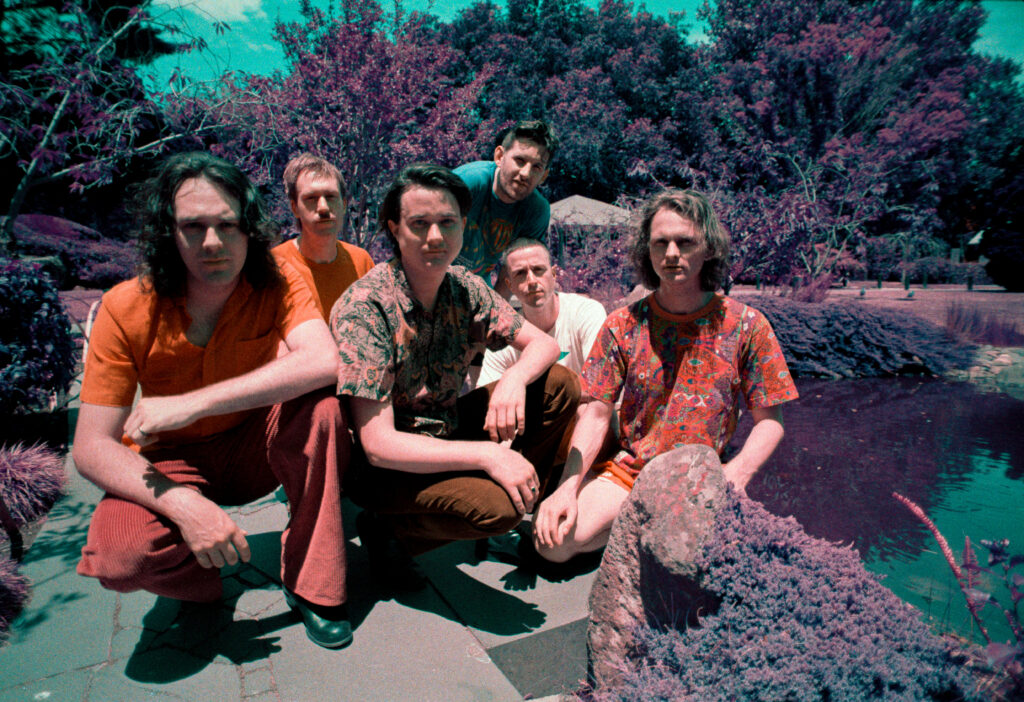 Hi Joey. Nice to have you here. I'm glad I managed to catch up with you before you released your 19th record. When is it coming? Next week?
Joey Walker: You never know! Wait, is Butterfly 3000 the 18th record?
If I'm not wrong…
I think you're right. That's crazy. Nearly 20 records in…
Ten years.
Yeah. It's pretty good, I guess. Two in a year on average.
Here at Kıyı Müzik, we have been following your musical journey with admiration for years. You have always been super productive as a band. But that hasn't changed even in the pandemic era where we all have struggled to adapt to our newer life conditions. How did you manage to shake off the dust and just continue on your route?
Unlike many other people, we were lucky enough to feel like just do what we always do, which is to make music. Despite not being able to live shows… We had to do it all separately, not get together or jam or anything like that, at individual home studios. I feel like we had so much time on our hands because we were in lockdown. We just tried to be as productive as we can to make the most of the time at home. It was ultimately a very productive period.
Butterfly 3000 is out now. It's psychedelic, it's sweet, it's joyful, and it includes some of your poppiest tunes yet. Your albums are often very focused and consistent in terms of genre and sound. Was making the record this approachable a group decision before you hit the studio?
The very earlier versions of songs from this record, we didn't really know what they belonged to, if they were going to be on an album or anything. When we tried to think about what this album could be and how the songs could be connected to a concept, we just went for it. We did want to make an album that was more heavily electronic than anything we had done before, but the thing we wanted to explore was to do it in a way where you didn't rely on making it dark or going with the minor sounds. I feel that's a trope of electronic music, or music in general, really. Nothing wrong with it, we do it all the time. But we all thought it would be an interesting exercise to make it all sound bright and -in the musical sense- major. Once we got to that place where we just went "Okay, let's play a bunch of songs like that," that's pretty much what Butterfly 3000 was. There are some moments here and there where it goes a bit to the minor key, but overall it's just bright and happy melodies, which is cool. I think that's why it sounds so unique, because not that much music is made like this as a full-on album.
Like most of your releases, Butterfly 3000 feels like a concept album lyrically with certain themes including metamorphosis and dreams coming up multiple times. Does it have a specific narrative or did it just come to be that way?
I don't know… We did make it during the big lockdown in Melbourne in 2020, which meant there was a lot of change. We couldn't go on tour, we all had to stay at home, we all had big things happening in our lives that may haven't happened if Covid-19 hadn't happened… Maybe there was a subconscious need to escape from being in lockdown and get back at the world, which we were so used to doing. Maybe this need was reflected in the lyrics in ideas like change or coming out the other side of something and being different. Which you can apply to life pre and post-Covid. Not that we're post-Covid yet, but that's one way to think about it.
The limited-edition vinyl copies of the album include sleeve designs in 11 languages including Turkish, which I find really cute and funny. I now want to either get a separate shirt that includes the Turkish version of your band name or start a tribute band with that name. (both laugh) How did that idea come up?
I don't know if we came up with the idea, but there was some reason that this was the album to have the language variants. There was just something in the spirit of the album… It's just great, and when you see all the copies of the album and all the writings in the different languages, it's really exciting, at least for us. Hopefully, people who speak those languages are able to get a copy and enjoy it. It's a really cool idea, and we'd really like to do it again.
You have made music videos for every single track on Butterfly 3000. I see that "Yours" and "Shanghai" are made by two different directors (John Angus Stewart and Amanda Bonaiuto). How did you coordinate working with so much material, is it all different visions and approaches?
In many albums, you often just do three singles and three video clips, or something like that. With every song having a different clip, we initially wanted all to be animation, but it just didn't work out. Still, 80% of them are animated. We did a bunch of research, strolling through Instagram and Youtube and asking out our labels and publishers if they knew any artists or animators. We just reached out to a whole bunch of different people we liked and ask if they would contribute to the album. We're still waiting for more than half of them, and it's all really exciting. We've never done this before. It's definitely an album of firsts a bit. We were all so moved and happy how the album ended up and how thrilling it was to make, and I think it deserved to be taken further to other areas.
Stu (Mackenzie) has stated recently that Butterfly 3000 is his favorite Gizzard album. What would be your top album from your career so far if you had to select one?
Butterfly 3000 would be up there. I always loved Polygondwanaland, too. I tend to think about them in the process of making them, on whether we've developed as musicians, or we've challenged ourselves to make something that we're proud of or grew as people. Polygondwanaland was one of those albums, we just made a lot of hard work and put together something special. I'm really proud of that. I'm really proud of the K.G. and L.W. albums, I see them as a single entity. But I'd say Butterfly 3000 and Polygondwanaland are my favorites.
I guess one of your most commercially successful albums is Flying Microtonal Banana, where you dwelt upon microtonal music. And K.G. and L.W. are the sonic sequels to this album, and they were named after your initials as a band. Do you think that the decision to name them in such a way was linked to you being largely associated with that sound for many people?
Wow. Yeah… I don't know. I feel like being inspired by Turkish music and all that stuff is definitely representative of what we're about. You know, trying to champion all that stuff and explore it. So yeah, maybe you're right. I hadn't thought about it that way but it did feel like we wanted to… I guess we've never done a self-titled album either. I think you're onto something there. Those albums are very representative of our identity.
You and Stu have a particular interest in Turkish music, right?
For sure.
How closely do you follow the Anatolian rock scene? Do you go for the more classic era stuff or the modern stuff?
I feel like Stu is a bit more engrossed in the scene than I am, but personally, I'm more into what would be considered the classics. I'm totally sure that there is a great scene in Turkey with the current Turkish rock bands as well. We're always eager to find new music from that part of the world.
Since the start of your path, you have explored an incredibly wide variety of genres, which makes me wonder: When are you dropping your hip-hop record? We all know it's there somewhere… (both laugh)
You never know! I feel there's a hip hop bone already in all of our bodies. Doesn't mean we won't do it!
Or do you think you'll get the band to do a Bullant approach and go full techno at some point?
Yeah. I'd be keen on that. Say the word and I'll do it!
Can we say you have a soft spot for techno?
Honestly, pretty much the only music I listen to is techno and house. In terms of consuming current music, that's pretty much what it is. It's just some kind of pursuit, I think. There's always so much good stuff that you have to really, really dig for. Just stroll through Bandcamp, there is some world-class stuff there. I have always been a consumer of it, but even for the last couple of months, I've been trying to accumulate a stockpile of knowledge. I will start DJing as Bullant, and I hope I will be playing live shows. I'm just looking forward to having a stockpile of music that I can play live.
I hope there's no obstacle keeping you from playing live. I also hope the international concerts return really soon. I guess the local concerts more or less got on track in Australia, right?
Yeah. In Australia, it's okay. We're relatively open, we just have our moments of outbreaks happening and going to lockdown here and there, or live performances having to stop until the virus is gone. But we've been able to play shows in Australia, which has been amazing. I guess a big part of the globe now do vaccinations, and we see big international festivals and shows announcing their lineup. That's so exciting. It's been so good to be in Australia throughout this pandemic, but now that this vaccine rollout thing is all over the place, looks like the rest of the world is starting to open up. I think that soon enough, it's gonna be a bad time to stay in Australia as a band because we won't actually be able to go out and play overseas without having to come home and quarantine in a hotel for two weeks at a time. Anyway, next year is gonna be a big year of touring for us. That's so exciting.
"In terms of us being in the studio, yeah, we've been really busy. There's more stuff yet to come, which is cool."
You did mention in an earlier interview that 2021 will be a busy year even by your standards. What does that statement include, and is it still accurate?
In terms of us being in the studio, yeah, we've been really busy. There's more stuff yet to come, which is cool. We've got some shows later in the year – hopefully, we can tour this at some point for the rest of the world – where we play five nights in a single place, doing a different genre each night. That's a fun and exciting thing to do. I feel there will be heaps of room to change these songs a bit, so we'll see how that goes. Hopefully, we can get to do a version of that in Istanbul and the rest of the world.
I have to say that, when the world is a safer place for concerts, your fans in Turkey will really need a series of concerts here. There could even be a concept show where you play your microtonal stuff, it would make the fanbase here go mad.
Yeah, yeah. I know. For sure! The last time we played in Istanbul was so good. Just the vibes… It makes sense that the Turkish crowd identifies so much with us playing the microtonal music, but it's crazy how much everyone loved the entire set. The reception was crazy. I'm certain we will get back to Istanbul in 2022.
Let's imagine we're 100 years into the future. There's a King Gizzard & The Lizard Wizard memorial stone inside a "Music Legends Theme Park". If you could personally choose one of your lyrics to be written on your memorial, which one do you think it would be?
Interesting. I'd prefer it to just say "Rattlesnake, rattlesnake, rattlesnake…" all over it. (laughs) I'm just gonna say that. That's gonna be our lasting legacy.
Or just a single "Woo!".
You can check out King Gizzard & The Lizard Wizard's official website here and Bandcamp profile here.