"Let it sound a little bit crappy and it will be fine."
Founded by Moritz Bossmann, a.k.a. the guitarist of Käptn Peng, Puzzles is a Berlin-based band that was born out of the manic song-writing project of Bossmann during a six-months stay in Istanbul. Puzzles released their first EP Moon Phase via Kreismusik in June 2020. Inspired by the 60s and 70s Turkish psychedelic rock along with Eastern European melodies, Moon Phase combines tastes of jazz, rock and funk in the same record. The EP starts with an energetic piece, continues with atmospheric elements scattered over a jazz foundation, and ends in such a way that our hearts feel its weight. I highly recommend this EP especially for the funk and psychedelic music lovers. We had a sincere chat with the frontman Bossmann. Happy reading.
You take part in many bands and projects such as the successful Käptn Peng and the wild trio Vögel die Erde Essen, especially the latter is closer to my taste. But you founded Puzzles after a six-month stay in Istanbul. Can you tell us more about the birth of this project?
The idea goes back to 2012 when I was in Istanbul. I had this idea of writing (music) as much as I could. I had felt a little bit unstable in my life before going to Turkey. I was listening to John Zorn a lot by then, this Masada songbook. And I thought it would be cool to have a period of time where I just write music with no concern about the quality of the music, but only concerned about the quantity of the music. The longer I did it, the more I got used to the tempo and the crappy songs in the beginning became better. I kept doing it and I wanted to have no self-judgement on my music. So, when I went back to Germany, I had about 50 songs in the book. Going through this reservoir I have seen that there were fresh ideas in within this collection. In 2014 I formed a band that just did two gigs. Then I kept working on a lot of other projects and things. In 2018, I gathered some musicians with whom I had always wanted to play. I thought about these songs (written in 2012). And we played some of these songs in a rehearsal. I wrote a little bit more because I knew how I wanted it to sound. Then we recorded just one day, one session, and that's the EP.

Wow! So, the whole EP was recorded in one day, that's it?

Yeah, we had three days of rehearsal because these people were really busy. But at the same time, these songs were new to them. We rehearsed one day, then the second day just setting up the microphones and then one day of recording. After that, our keyboardist left the band. So, I had to find another player, and the mixing for the EP took quite a while, and meanwhile I was getting a kid! In the last year 2020, I really had time. I had a little new-born who was sleeping, I was lucky back then, not any more (laughs). It was the first lockdown in Germany. I finally had the time to finish this record, which was a dream for many years to make this music. Then the record come out, because you know I'm part of this label (Kreis Musik).

So, you wrote about 50 songs back in Istanbul in 2012. How did you store the music you wrote? Did you record them or write as sheet music?
I wrote them down and also recorded on this mp3 player. Back in those days, you had these mp3 players that you could also talk into. I recorded with it. I was getting into writing sheet music, to feel more "done", to become better. It was a challenge for me (laughs). But if I did it now, I would just record it (laughs).
How did you choose the members?
I can talk about the actual line up that exists now. I have a good friend, Daniel Freitag, he is doing pop records. He is a guitar player, a song writer and a producer. He wanted to tour with one of his records and I ended up playing bass on tour with him. This collaboration continues since then. I asked him if he could play the synths in Puzzles. He really likes the music. The saxophone player, Johannes Schleiermacher, mostly plays jazz music. He plays in this Berlin-based big band, which could interest you, Andromeda Mega Express Orchestra. I have always wanted to play with him because on the one hand he really comes from a jazz surrounding, and on the other hand he doesn't care about jazz (laughs) at all in his music. I love that, he is wonderful. The drummer, Christian Marien, he plays a lot of free jazz music. It is strange that he came to our band because he plays free, improvised jazz music without rehearsals. I asked him why he does not play groovy music because he is a groove machine. I told him "do what you do" and then we took off (laughs).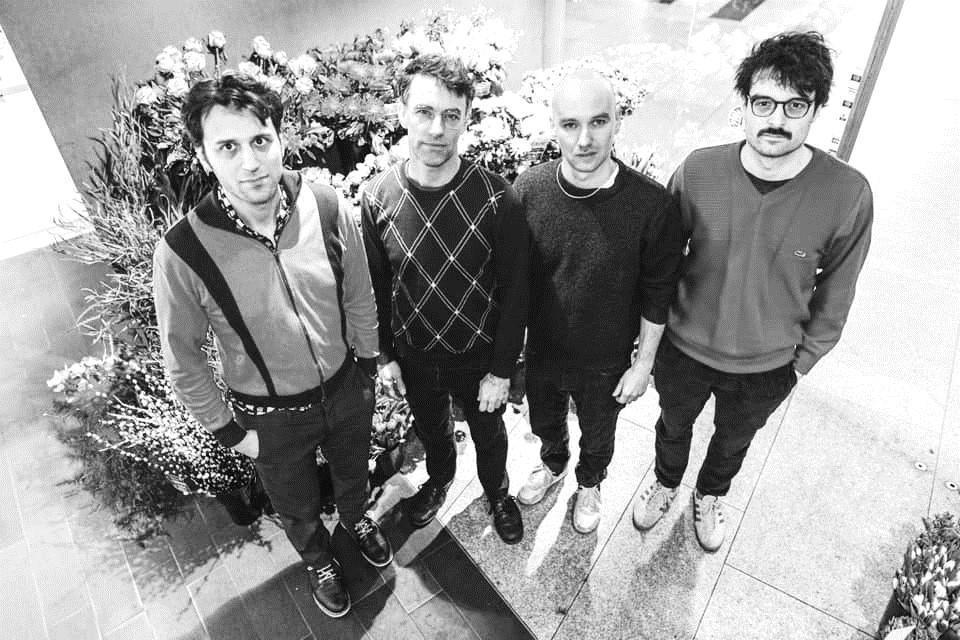 In the light of these stories, can we say that the name of the band comes from putting the Puzzle pieces together?
Yeah, I mean, that is a good interpretation actually (laughs). It wasn't a choice by my conscious mind. I just liked the term but, in the end, it is always like this. If you do something and you have the feeling it makes no sense, then just make it up! In the end you will find out that it had a sense which you didn't know about. Over these years I have the feeling that these pieces were always in the air, but never one together thing. It was always a little bit fractured (before coming together in the end).
Albeit being a jazz band, you get your bass sound from synthesizers instead of a more conventional electric bass or double bass. Can you tell us more about his choice?
If I would think about an electric bass or double bass for these songs, I can't really imagine that! It is absolutely clear that you need an MS10 synth or something similar. I think it was just like this "Hey, let's meet, and get a bass synthesizer because we don't have a bass player". These bass groove stuff with synths, it has a lot to do with the Turkish psychedelic music form the 70s. I don't know if they all play with bass synths but it felt like "let it sound a little bit crappy and it will be fine." (laughs).
The structure of the songs is well composed with rich and eloquent rhythmic and harmonic elements. Obviously, you have the Eastern European influences and you are not afraid to use odd-time signatures and some polyrhythms on top of them as we see in Hotzi. There, you use a 4 over 5 that repeats at each 20. Nevertheless, the band still sounds improvisational above all these layers. There is a jamming vibe to it with a great chemistry among the players. How long have you been playing together?
It is funny because normally in my other projects such as Käptn Peng or Vögel die Erde Essen or other bands, I kept working with these musicians for years. But for Puzzles it was only three days of working with these musicians! I played with these guys for three days for the EP, and then one week for a tour and that's it! I feel so blessed that I could do it with these musicians. They just flow. They are not like "oh there is 7 oh there is 5 I have to land on the 1 all the time". They just play it as if it was 4/4, you don't think about it.
Yeah, for Turkish people, sevens and nines are just natural because we grow up with these. But you guys made it sound so, as if you grew up with this type of music. It is so natural in the EP, pretty cool.
Actually, in this one song, that has a 5/4 groove, we really play 4/4 over 5/4. Why not? As long as you don't have to show anything, like play crazy 8th or 16th lines or anything. It is more about the atmosphere. I find the odd-time signatures have this atmosphere. If I listen to traditional Turkish music, also jazz-rock from Turkey, it's like folk songs! There is nothing that you have to learn in a university, it is just the music that people do! In Germany, we have this really degenerated feeling of rhythm. We have a big history of chords, vertical tones over tones over tones, like Beethoven. But when it comes to singing, dancing and clapping, we are so stuck (laughs)! I have always been fascinated about that in Istanbul. You know, a person enters a bar, sings a traditional Turkish song in 9/8 and everybody starts singing and clapping with him. This would never, ever happen in Germany (both laugh)!
Maybe you will change it!
Yeah maybe (laughs).
You have played some shows in festivals and local venues in late summer. How did it go? How was the reaction from the crowd to your EP? Are you planning any sort of a European Tour when the pandemic will allow?
It was very good. In Germany we had a short period when we could do open air concerts with seats. Really strange but that was the way how it could work. Each concert was really great, everybody was so much looking for concerts and hearing music. I guess we are not really popular. I think most people were coming around and listening to the music. But there were some jazz listeners who already were aware of the players in Puzzles like "oh this is the new band of Johannes Schleiermacher or Moritz Bossman". So that was cool. I would have loved to play more concerts. Maybe the timing of the record was not the best. Because people were busy with a lot of other stuff. But it turned out well, and I really enjoyed to play with these guys. For European Tours, it is a little bit of question of money.  The farther away from your home town, the more expensive it gets. But we thought about playing duo with Daniel. We are also composing a new album.
Your label Kreis Musik seems like a family. Is it a Berlin collective?
We started this label as Käptn Peng band. In 2013 we released our first album, and we just did it by ourselves. We wanted to have a label where we could release our own music. We had the luck that our first album became quite a success, I mean for our dimensions, it was quite a success. We had some money to release some of our other projects of the band members. So, it is a little bit like a family project. We release music from ourselves and from some close friends.
Great. Are you also open for other bands to approach you?

Yeah, we are definitely open. We get mails once in a while from some artists, and see what we can do. At the moment we are more into Germany, Austria and Switzerland. But if anybody from France or Turkey is interested in the label it is cool.
I have a couple of questions for the Turkish reader (both laugh). Can you tell us one anecdote amidst your memories of Istanbul?
It is hard to pick! There are so many memories. But for Kıyı Müzik, since it is a music collective, I can say that I was in a concert of Erkan Oğur in 2011. It was a fusion kind of band. He was singing a little bit and playing the baglama and the electric guitar. I went to him after the concert and asked him, "Could you… teach me?" (both laugh). Maybe it was a little bit embarrassing but I thought I had to do something, so I approached him. And he was like "I… don't teach at the moment" (both laugh). But then we went to the backstage, and jammed with him! That was really fun. It was just spending some time and a moment of affection, you know. After that, we just went our ways and that was it (both laughs).
It becomes even funnier when I imagine Erkan Oğur saying "I don't teach" with all his glory. This brings me to my next question. What are your main influences from Turkish music that inspired you in writing this EP?
I'm not really coming from jazz back ground. I come from rock music. I have big influences from punk and metal. I was playing in a death metal band over 10 years, so I feel you (both laugh). So, when I was in Turkey, I looked at the Turkish music in a more rock perspective. I was listening to people like Barış Manço, Cem Karaca, Moğollar. But it is not like they had such a big influence on me directly; I don't know if anything from them went to my music. I also listened a lot Erkan Oğur and Asik Veysel. I really dig him from a rock perspective (laughs). But it is not only me, many bands listen to this kind of music. For example, King Gizzard & the Lizard Wizard and Altın Gün.
The video of Hotzi matches really well with the music and it is hard to believe that it was recorded by an eight-year-old. Can you tell us more about the ideas behind this song and the video production?
I have a good friend. His name is Michael Graessner. I'm doing a theatre project with him, because I also write music for theatres. He is a theatre stage designer. They went to Egypt for holiday, and his kid was fooling around with the iPhone, filming in the car, in the hotel and all. I liked how it looked. It was a little bit dirty, a little bit sad but also very interesting. I edited the video a little bit and done! That was the last holidays before the lockdown for them and it got me from the heart. But basically, the explanation is since this guy is so talented, so is his son (both laugh).
What's next for Puzzles?
We are planning to do a tour this year but at the moment nothing is clear. I hope everybody keeps the energy till the concert halls reopens. But apart from that, i plan to do new stuff. He is in Paris now but when we get together again, we can make an album, because everything flows when we get together.
Thanks a lot for taking the time for this chat. Is there anything you may want to pass to your fans and readers of Kıyı Müzik?
Thanks a lot for their interest, especially to you. It is really cool to know that people read about music, and that they give this music a chance! I hope we will meet some time!