When I initially met punk veteran Mike Watt on Skype, we both fell victims to an incredibly lousy internet connection. After struggling to understand each other's words for several minutes, we gave up and decided to continue on via mail. Our subject of discussion was his new project Spirit of Hamlet (Mike Watt, Kawabata Makoto, Scotty Irving, Benjy Johnson) and their debut album Northwest of Hamuretto (out today on March 17), a free-spirited work that blends together genres like punk, noise, jazz and more -Watt isn't a fan of genre definitions anyway, as you will see in the interview. You can read our chat below.
How are you doing these days?
I'm glad to be here, truly. Most grateful to have a chance to answer your questions. Sorry about the lame internet connection, but I'll try my best via email.
I love your new LP as Spirit of Hamlet. Let's discuss how you four connected and joined as a band. I guess you were kind of the one who kickstarted the entire process, weren't you?
You're most kind… On behalf of the band, I thank you much. I believe I did start the whole ball rolling by asking Scotty after he was a guest on my Watt From Pedro Show to send me an album worth of songs with drum parts only… He sent me eight tunes. I can record here in my Pedro apartment (San Pedro, California is part of the Los Angeles harbor, about thirty miles south of Hollywood) where I can capture everything but drums with a Pro Tools HD Omni setup I call Studio tHUNDERpANTS. I pretended Scotty was here in person playing in real time with me and just reacted on bass with what he brought me with his bitchin beats and parts. It was very quick – No second guesses from Watt, instead I went for the first feel that struck me and jumped into the ring and wrassled his parts with stuff I could think of, stuff that I thought could serve the tune, you know: Aid and abet. The drums now with bass stuff got sent to Makoto who lives in Japan – that's where he's from. He brought his happening guitar and so we now had a three-way. Scotty has a buddy named Benjy (They both live not too far from each other in Greensboro, North Carolina) with a studio called Earthtones Recordings, and he was digging on what Scotty brought him with all three of us aboard and wanted in on it too, so he brought more guitar and also singing, writing lyrics specially for this… Even got his son to play on a tune also! Now we're a four piece, a great evolution!
What were the easiest and hardest songs to shape from this project?
My part got done pretty quick. I felt good stuff coming from Scotty's drums and the way he composed them, so it was not too tough to get up on his beats and get the bass down where it could fit good with both the rhythm and the spirit of what he brought. My stuff was part of the foundation so I wasn't shaping much -that was more in Benjy's realm, him being the last to pile on. I thought he did great, sounds/feels really happening to me.
Northwest Of Hamuretto is an eclectic project that blends together so many genres. What are some of your favorite albums with a similar attitude, that blends genres and defies specific classification?
I'm sixty-five years old now and doing bass most of that time has taught me that music is music, so I've come to really not dig the idea of "genre" and that kind of stuff – feels/seems more like fake lines of dividing listeners even before they get to hear what's up, and so I try these days to avoid using labels to segregate music. Anyway, I come from the early days of the punk movement where one of the goals I felt that was strong was surprising people with whatever it took musically to do that. When Raymond Pettibon first played me John Coltrane's Ascension, it was at his pad after seeing The Germs one night and I asked him if John Coltrane was a punk rocker. I had no idea what "genre" he was supposed to be part of, had no knowledge of him except what I had just heard -now this more than forty years ago, but I think it's important I tell you that. Hearing what I heard blew my fucking mind, caused a sea-change in my life. I wanted to learn everything I could about him after that.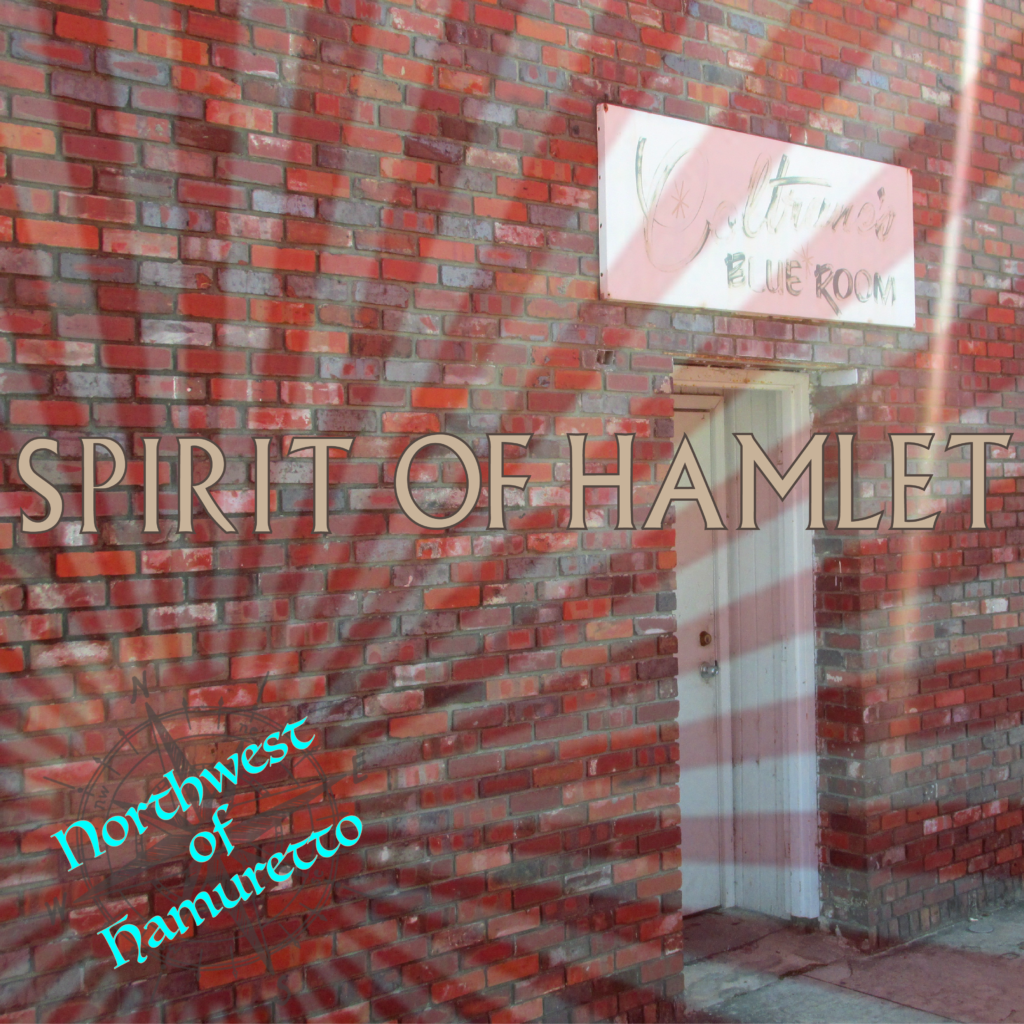 What place are we looking at on the album cover?
On the cover is a building in Hamlet, North Carolina that was built where a building was before that -one that John Coltrane was born in (September 23, 1926) and in honor of him, there's one part the people there named the "Coltrane Room" and I got to see inside of it when I visited during a US tour I was on in 2014. There was a plaque on the side of the road a few blocks away saying he was born there, but I figured no f.cking way was he born on the side of the road, so I started searching around… A man with a mechanic's auto repair place saw me looking at this building and came over with keys to let me into the "Coltrane Room" and damn, if that wasn't a total mind blow for me.
Benjy Johnson recognized the Spirit of Hamlet as "the most freeing project he has ever been a part of." How would someone, who has been in as many projects as you are, define Spirit of Hamlet?
That's beautiful of Benjy to say that, truly it is. Now I've been part of a lot of collabs where people trade files over the internet, -been doing it for like a dozen years or more- actually I started with this kind of concept back in 1986 with the two bass band Dos, because me and Kira (Roessler) were on different sides of the country, so the connection was trading four track recordings onto cassette tapes via the US mail so we could both bring and respond to stuff brought music-wise. By letting each cat let their freak flag fly, we get the most integrity going as far as everyone have a say in what becomes "the whole enchilada" at the end. I've been in several situations like this and dig it much. It lets the parts of the whole really determine what that whole will be and lets each project and collab become their own voice, a voice made up of all the voices involved with me trying my hardest to contribute to making an "interesting conversation" via music. I'm in a lot of projects because I see them as learning opportunities, I am here to learn! I define Spirit of Hamlet as the sum product of Scotty, Makoto, Benjy and myself kicking like Kato to try and lift itself off the ground and get launched. I feel it's an authentic way to try and organically answer the question of what is to be done via music. It's about both sharing and expression. it's about tunes uniting a group of cats in a way that excites and motivates them. I think there's no greater gift a music can bring to another one than then gift of inspiration. Amen.
Let's give a quick rundown of three bands you have been in and I'll ask you to define each one as "the most…"
1-Minutemen
Minutemen was the band I was in with the man that was the main reason I got into playing music -I wanted to do music with D. Boon! We were twelve years old when we started. George Hurley is a beautiful man too. You gotta know that without D. Boon, you probably wouldn't be having an email from me, talking to you about music.
2-The Stooges
I got to help The Stooges for 125 months, the most ever I helped a band. It was an incredible experience. Finally I was the youngest guy in the band! Besides music, Iggy was great with culture, Ronnie with history, Scotty with nature and Brother Steve with politics -very interesting gentlemen and I got the stuff straight from the well with no second, third or fourth hand jive -very lucky for Watt. James Williamson was also very kind to me.
3-Porno for Pyros
Yeah, I dug this band too, first time I helped a band with touring. I still play with a project called Hellride with Stephen Perkins and Peter DiStefano. Per gave me the confidence to write my first opera (Contemplating the Engine Room), loved doing bass for these cats.
What is the one art piece you worked on which you would love to be remembered for the most?
Probably my first opera. I used my pop's life in the navy (he was a machinist mate) to tell the story of the Minutemen and about losing D. Boon and then him too… Very difficult but I'm glad somehow I wrangled that out of myself. I also loved being in this movie Raymond wrote/made:
Thank you so much for letting me yammer at you about this stuff. I'm really glad to be part of Spirit of Hamlet -truly I am… can't wait for Chapter II of this project, already I'm chomping at the bit to see what Scotty brings me with his drums and then what Makoto and Benjy will do when it's their turn… Life is interesting! John Coltrane said he wanted to be a force for good and I think in some ways that's what we're trying to do also – Ain't that a trip?!
You can check out Spirit of Hamlet's Bandcamp page here.