Hante. is only one of the current projects led by Hélène de Thoury, who is also the founder of the label Synth Religion and one-half of the dark techno duo Minuit Machine. With the latest Hante. record, Morning Tsunami, de Thoury once again makes undefinable music where darkwave and electronic influences loom large. We had a lovely chat with de Thoury on the album and her journey.
Thanks for doing this interview with me, Hélène. Right off the bat, I want to ask you this: I recommended your music to a friend of mine who has two playlists: One oriented in darkwave, and one oriented in electronic music. She could not figure out which playlist your songs belong to. (I suggested forming a third one called "DarkRave", by the way.) How would you best define your music?
H: Thanks for having me! Ahah actually I really like your idea of "DarkRave"! I totally understand the confusion because to be honest, I don't know myself. I think the music I do is a mix of those genres and I feel that sometimes people will hear what they want to hear, describing the style in such different ways. On my pages, you can often read "Haunted Wave", which is something I made up because I just don't feel like I entirely belong to only one scene.
You continue to "haunt" listeners with your latest record, Morning Tsunami. What is the story behind this carefully constructed, delicate yet crushing record?
When I started to compose "Morning Tsunami", I wanted to write a concept album at first. Something that could be a movie soundtrack, with some recurrent melodies and a story. A bit like Virgin Suicides from Air. But I was not ready yet to write something that different and it ended up being another album with distinctive tracks. I guess you can still hear that cinematographic aspect and the tracks are very progressive. Sometimes they take a long time to start. The emotions have always been very important in my compositions but this album has particularly been cathartic. It helped me go through the pandemic, through all the strong feelings that it created. That's why I think this is my most intimate work so far, like an open-book. 
Morning Tsunami is an interesting title for an album that contains music largely associated with nighttime. I can verify they make for a good listening experience just before dawn, though. How did you come up with that?
Because the album is so personal, I wanted a title that would be as personal. The word "tsunami" came quickly to my mind because I love that word and it scares me at the same time. This is a recurrent nightmare I have: I'm walking on a beach or in a city and a huge wave is coming. There is no way to escape. I added "morning" because this is often the kind of dream I have in the morning when you wake up super early and go back to sleep. I love this moment even if it means having nightmares sometimes because it feels like being trapped between two worlds. When reality didn't hit you yet.
You have a taste in music that is noticeably diverse. What do you think are some of your least expected influences that would potentially shock your listeners?
What would shock them? That's a good question! I grew up listening to so many different styles. Especially because I'm the youngest of a family of 4 children and I was very influenced by the music my siblings were listening to! From classical music to hip-hop, from indie rock to heavy metal, from 80's synthpop to French popular music…. It took me a while to find the music that would be gut-wrenching for me. I had different "phases" and I guess you can hear a bit of all of them in my music. For example, I've been listening to metal music for a long time and tried to sing like Angela Gossow, the first singer of Arch Enemy when I was in a metal band. But I'm sure you're not that surprised! It's more like a fun fact.
Your music has often been called cinematic. As a person who studied cinema and fashion design, can you name some of your biggest influences in the visual arts?
When I was studying cinema, I had a class on David Cronenberg and David Lynch. And I fell in love with their movies. My teacher was a really good friend of Cronenberg and I was fascinated. I still think it influences my music in some ways. Now, I'm a huge fan of Wes Anderson's aesthetic and poetry. About fashion design, I'm still obviously very interested but I don't take the time to follow the collections anymore. But I still see some pictures here and there and can be blown away by the beauty of a garment. Three years ago I went to see the documentary on Alexander McQueen and I felt so moved by his talent and vision.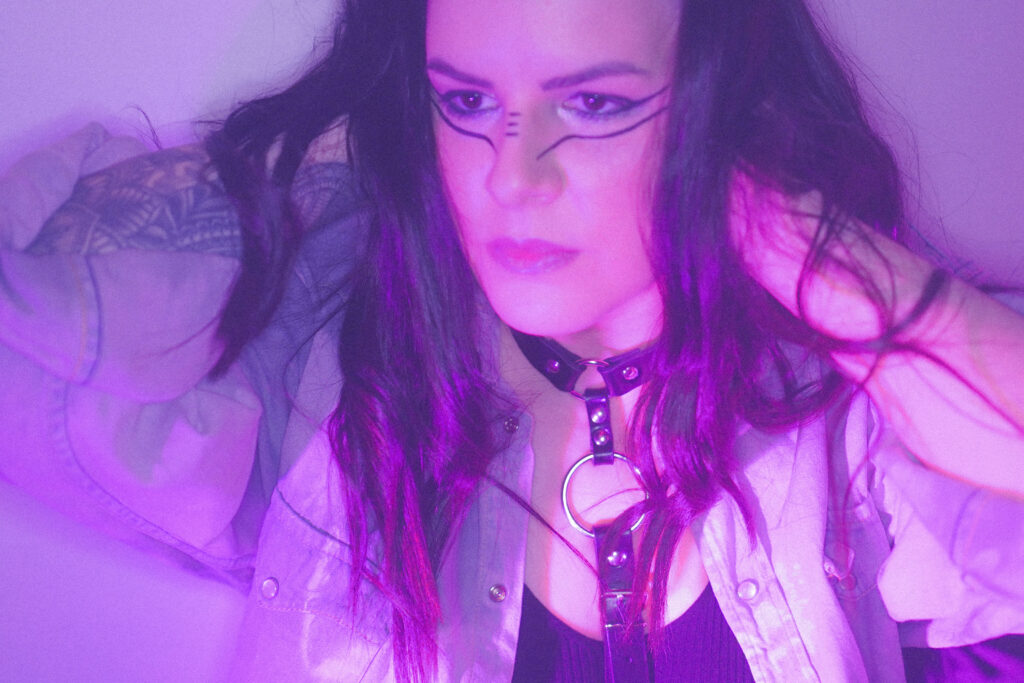 The club culture of the 21st century is impacted by the growing influence of dark electronic music, while projects like Molchat Doma become TikTok memes with their work. Do you think the scene you engage yourself in is experiencing a renaissance of sorts, and how does the Paris goth scene connect to it?
Dark aesthetics are definitely everywhere and I see it like a chance to be discovered and understood by more people. Last week, I was waiting at a bus station and saw an advertisement for, I don't even remember, Dior or Chanel, and thought it was high level goth fashion. But I'm not that surprised because there are a lot of designers and people working in the fashion industry who are always dressed in black. More in some kind of minimalistic way but still. For me, the Goth movement is not a way to distance oneself from the mainstream. It's a way to express your vision of the world, your artistry. The people of the dark community are the new "new Romantics". There's a poesy in all this that is undeniable. And since the world is pretty dark right now, it seems pretty obvious that more people are embracing a darker aesthetic, and are ready to express their darkness. Listening to dark music is part of this evolution.
It seems like the majority of the active gothic/darkwave projects today either work solo or as a duo rather than a band. What do you think this tells us about the nature of this realm of music?
The thing is that if you're doing this kind of music, pretty quickly you're gonna have to travel a lot to play some shows. So I guess it's a practical thing. It's really hard when you start a project to have the fee covering the travel expenses if you are more than two people. I really think it's as simple as that, it's more convenient. And I don't even talk about making a living off music. I really really don't know how bands are doing.
If you were to recommend some of the most unknown artists and albums from your recollection, what would make the list?
Ok so I went to my Spotify and tried to spot some artists that would deserve way more attention for me: Echoberyl, Rue Oberkampf, Hørd, NNHMN, SDH, Figure Section… to name a few.
Among other projects, you run your own label, Synth Religion. I once asked Selofan -who also have their own label- how the backstage scene of music has been handling the pandemic, and I will ask the same to you. How are things going as you observe in France?
I really thought that last year would have changed things for lots of independent labels and musicians. And that maybe they would have disappeared because they just couldn't make it financially. But it feels like it hasn't really changed. It seems that everybody found a way to wait until venues open again. People seem more into music than ever and eager to listen to new music. I really hope everything will be behind us very soon.
What projects do you have for the foreseeable future, both in terms of production and concerts?
Right now, my priority is to write new tracks for Minuit Machine. We just signed with a new booker and I feel like things are turning out pretty well for this project so it really motivates me to produce and try to push myself. I want to continue experimenting with Amandine on new sounds and new tools. And yes, of course, playing gigs, gigs, gigs…
If you were to select one lyric you've written so far to be written down on your memorial stone, what do you think it would be?
I realize that there would be so much sarcasm to play around with. But I'm gonna choose "Regrets are for nothing" from the song Blank Love.
You can check out Hante.'s Bandcamp profile here.