Multi-instrumentalist composer Graham Reynolds is engaged in a musical career with impressive variety: Apart from making his own music as the bandleader of Golden Arm Trio, he has composed music for director Richard Linklater's films (A Scanner Darkly, Before Midnight) and has lent his touch to numerous fields including theater, dance, opera, chamber music and more. He also occasionally performs film music from the silent era of cinema.
This time he visits Alfred Hitchcock: One of the master's rare silent era films, The Lodger, now has a score reinterpreted by Reynolds, which arrives on digital platform as a full-length album this Friday (October 2). Four tracks from the album have already been released. We had the opportunity to listen to the whole thing, and then chat with Reynolds about the creative process and more.
We have discussed various topics such as composing film music, the relationship between image and sound, artistic collaborations, the pandemic and more.
For the Turkish translation of the interview, you can click here.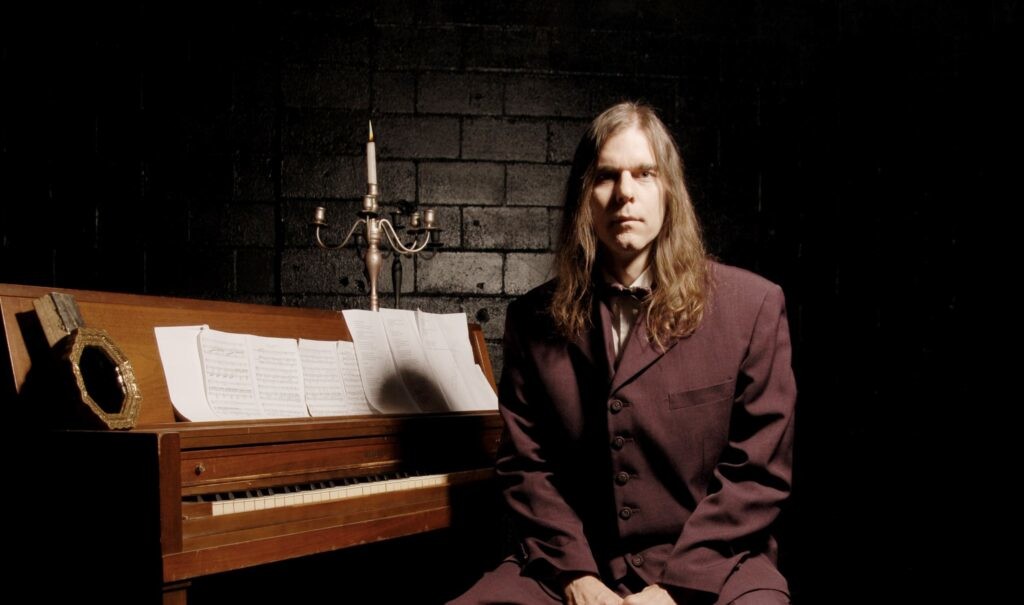 Hi Graham, how are you?
I'm fine, how are you? What time is it over there?
I'm doing alright. It's 7 pm. It is morning for you right now, am I right? Are you in Austin, Texas?
Yes, I am. It's 11 am.
So, you are starting your day off with me, basically.
(laughs) I've been waking up pretty early. We are recording a new album for the rest of the week, so I'll be sitting up the recording sessions during that.
Thanks for doing this interview with me.
Thanks for having me.
The first thing I want to ask you is, how are you doing in the current pandemic? Is it going well?
If we are just talking about me, it is going well. My studio is attached to my house, so I get to keep working here, and knock on wood, work keeps coming in, so I've been busy. People who work in my studio are working from home, so I still got help when I need it, and a more focused time, so that's good. The world's effecting people out there, but for me it's been good.
For me, it's always good to keep busy in these times.
Yes, exactly. Are you keeping busy? How are you?
I'm fine, basically. I do the editorial work for the site, so that's keeping me pretty busy. I'm managing another site focusing on cinema, so working with two sites is keeping me active.
Cool.
Let me congratulate you for your latest album The Lodger, which comes out this Friday. I gave a listen to it and loved what you did with the original medium that is Alfred Hitchcock's movie. I think it really is impressive. You already have many soundtrack works under your belt, but it seems that you have a particular interest in the silent era of the cinema. You have performed the music from some timeless classics like Battleship Potemkin, Nosferatu and Metropolis.
Thank you. Yes. Doing silent films is how I learned to score films. All the first feature-length films that I did were silent. There's a movie theater chain that started here called Alamo Drafthouse. Tim (League) from Alamo asked me if I would score Battleship Potemkin. Other than that, I had just done some experimental shorts and very little original film score work. So I've got a lotta practice composing music for pictures before I started doing new film work. And one thing that made it so much easier was, you know, Battleship Potemkin is 2 hours long or something. That means 2 hours of music. And when I started doing new feature films, there was so much less music, and I'm like, 'Oh, this is a much easier job'.
Because silent films depend heavily on music, it occupies the entire runtime to not get the audience uncomfortable during the absolute silence that occurs otherwise…
Yeah, exactly. Every bit of narrative and emotion and information and anything you want to tell the audience that is not in the visuals or you want to enforce in the visuals is up to the music. There is nothing else: Without dialogue, without sound effects, without ambient sound, the music plays a much larger role.
And now you recorded this album which reimagines the soundtrack of -I believe to be- an overlooked Hitchcock film. How did this project come to be?
This was a commission from a theater here called Paramount -not the movie studio from Los Angeles, but the theater/concert hall here in Austin. They asked me to do this, since they knew I had done silent films before, and we worked from there. We premiered it a couple of years ago. I do so much live performance, not everything can turn into an album. We have been talking to Fire Records for a while now. They come to South by Southwest usually about doing an album and this turned out to be the right one.
Obviously, you love cinema. Does The Lodger hold a special place in your heart? It is an essential feature in the history of cinema, but not very much recognized for that, at least not when compared to other classics you scored.
Yeah. Everyone knows Nosferatu and Potemkin, they study it in class and all that, while Hitchcock's films that get studied are his later films.
What was exciting to me was that one of the great directors in the history of cinema is Hitchcock, and you're seeing his talent at the very beginning. In a way, it is my opportunity to collaborate with Alfred Hitchcock. Working inside of that creative mind is inspiring.
Your interpretation of The Lodger soundtrack is inevitably more modern than the original. How did you approach this particular sound you wanted to create?
This one I approached by using film scoring tools that I have for doing non-live performance. I work on the computer a lot as well as the acoustic instruments in the room, and so many other tools that are built for film composers in the computer aren't used routinely in a live context. So I tried to use those tools and then combine that with the live string ensemble, and build from there.
The album, I think, is pretty dynamic and the instrumentation complements the narrative. I can envision the film with your music.
Thank you.
I've seen the film only yesterday. Better late than never, and I loved it. I don't know if you've seen the 2012 restoration of the film but in that version, there is an awkward addition to the soundtrack. (That's just my opinion, of course.) The updated soundtrack includes two songs with lyrics, which is a very anachronistic choice for an example of silent cinema. What do you think about that?
It's though, because I had not heard the one with the songs when I built mine. I tried to ignore previous and other versions, so I have not listened to that.
When you're building a contemporary score for a classic silent film, initially you make a major choice: Do you want to make a score that could have been played in the 1920s and that sounds like it matches, or do you want to make it sound like it's a contemporary score, yet somehow it matches the film in other ways? These both have strengths. If you match it to the time period, then you know that it will feel as a piece of the film. You know it will marry well with the picture.
The strength of not worrying about that is that you can use all the innovations from the last 100 years since the film was made and incorporate that vocabulary into your score and try to marry that into the film and, in a way, bring the film into the 21st century. That's an exciting thing, but it's also dangerous, because it's very easy to misstep or to create something that just doesn't feel quite right because you use a certain sound and it might sound like the 1980s. And you're watching this film that is clearly not set in the 1980s, so it throws you off as a viewer, it gives you bad information or information that puts you in a different place than the film intends. So it's a delicate thing, and I'd be curious to hear the songs but I can imagine it's a bold, but a rather risky choice.
I'm still making up my mind on it. (laughs) Are there any particular film soundtracks that you wish you did? Whether silent or not…
So many, of course! I like Lech Jankowski's score for Institute Benjamenta by the Quay brothers, it's a very exciting one to me. There's so many of David Shire's: The Taking of Pelham One Two Three, The Conversation… I think Mica Levi's scores might be really amazing, and -I don't know how to pronounce her name- the composer who worked on Joker (Hildur Gudnadóttir), she's just amazing.
As far as silent films, I've done so many of them. There are the ones that we did a little bit of recording. Back when we were doing them, we did them a lot. I would love to get back to some of them and dig in more deeply. Battleship Potemkin is one of those that I've spent a lot of time with and I'd like to, maybe, someday make a full recording of it.
Your career as a composer involves so many different fields like symphonies, operas, chamber music, the music you composed for film, theater and dance… Among all these, do you have a particular field that you enjoy the most while investing yourself into it? Or do you just go with the flow?
I like as much variety as possible. I like the next thing I do to be different from the last. That keeps me excited and engaged. You know, there are some people who make the best music by focusing in on a very clear aesthetic, a very clear sound palette that is particular to them. I admire those who do that, but that's the opposite of what I do. I try to do a little bit of everything, and experiment in every direction. That's what I love about collaborating, whether it's film or theater or dance, each one pulls me in a direction that I wouldn't necessarily go on my own.
Like you said, you've composed both film music and your own music, which reminds me of an earlier interview I did with Paul Haslinger. He also has worked within both fields. When I asked him what kind of differences there are between the two practices, he said that while composing for someone else's work, there are boundaries set before you, which can both be limiting and liberating. What do you think about this?
I very much agree with what Paul's saying. There's a whole spectrum. For me, there's no one or the other, every collaboration is different. And in a way, almost everything I do is a collaboration, even if it's a solo performance. Even if I'm by myself in a room with no audience, there is someone influencing what I do. If I'm in a punk rock club with that kind of an audience, I will play differently from a chamber music concert, which will be more delicate, quieter, slower. So the audience becomes a collaborator in a way.
The difference with something like film, TV or dance is that I don't get to decide when the music is finished. In my own music, if I'm making an album or leading a band in a performance, I get to decide 'this is where the piece is done'. In a film, the director gets the final say. That's a very different position, and the liberating part of it is that it takes the weight off my shoulders to know when something is ready for the audience. But it also takes away my power to make the final aesthetic decisions. And I like doing both, really.
What are your plans for the future? You've already mentioned that you're working on another album, but the industry as we know it is going through significant changes. What are your plans within this new scheme of things? Do you plan to do livestream shows or something else?
Good question. We're trying to figure that out. For me, livestream concerts aren't ideal. For some people, it's working really well, but you can put anything on screen. If I'm playing a show in Austin, there's me and everyone else playing in Austin that night but that's the end of what you choose in between. But if I put up a livestream show on the internet, someone could watch a Duke Ellington concert instead, or Leonard Bernstein, or Stevie Wonder… So it's just a very different thing and obviously you take away the actual interaction from the audience, which is essential to creating music live.
What I'm focused on more is the thing that is stronger when you're alone, which is recorded music, studio music. They are different art forms to me: Live performance is like theater, and recorded music is like cinema. And theater that is not live is really difficult to imagine. People are trying, but it becomes so close to TV that you question whether it's theater anymore. I've been much more focused on projects that can be done in the studio.
I get what you mean. I hope we can return to the normal pretty soon.
I mean, if we return to normal, I would love to come to Istanbul!
I hope so. I hope to see you there!